Fun Teaching Ideas for September Preschool Themes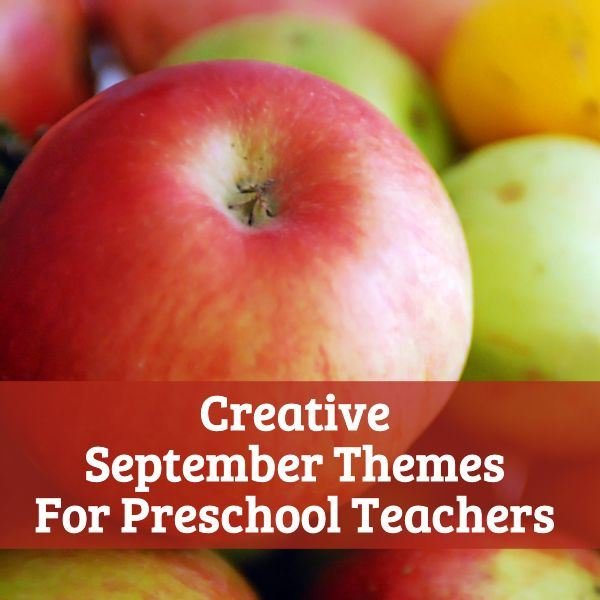 September is a busy month with teachers and students beginning school. There are a variety of themes creative teachers could use for this month. One excellent way to start off is with back to school and getting-to-know-you activities.
September is the beginning of when the seasons start to change so an autumn theme would be appropriate. Next you can celebrate Grandparent's Day with a family and Grandparent theme or recognize Johnny Appleseed's birthday with an apple theme. Every child loves teddy bears and the first Sunday in September is National Teddy Bear Day so you might even want to include a teddy bear picnic in your planning.
Themes are a great way for teachers to bring everything together and keep students engaged in learning. They also help teachers save time in their planning because they incorporate all the subjects under one themed lesson and reinforce the concept in multisensory ways.
In this guide we have gathered the best lesson plans, activities and crafts to help you create a month of fun activities for September. All of these ideas are broad enough that you will be able to touch on many different aspects and your students will be able to understand how all the activities connect.
Back to School
For most students across the nation, September is the month when school begins. This is the time to welcome your students and get to know them on a personal level. When you incorporate activities, crafts and games surrounding a back to school theme, it allows you to get to know your preschoolers and provide them with the opportunity to get to know you and their peers. Learn exciting, fun ways to get acquainted with your class through a variety of activities on the back to school theme.
Apples
When you think of September, you probably think of going back to school, the change in the weather, and eating or bobbing for apples. Johnny Appleseed's birthday is on September 26th, and an apple theme is the perfect complement to a lesson on his life. Apples (and other fruits) are a fun theme that preschoolers seem to love. A cute idea is to have the students bob for apples as this incorporates the theme but it also provides them with a healthy snack.
Learn more about apples via poems, fingerplays, books, crafts and activities that your students will enjoy and you will love teaching. Use these ideas to help you create the perfect September apple theme unit for your preschool classroom.
Grandparents Day & Family
Grandparents Day is the 2nd Sunday in September. This is a time to celebrate and honor grandparents throughout the nation. Learn how your students can show their grandparents and other family members how much they appreciate them with a variety of thoughtful crafts and activities. A great way to extend this theme is to incorporate your student's family. Create projects for family members and learn how your students can honor them too.
A fun idea to encourage your students to celebrate and honor their grandparents is to have a grandparent luncheon. Have the students create crafts as gifts and ask the parents to provide the snacks.
Teddy Bear Day
National Teddy Bear day is celebrated on September 9. What preschooler doesn't love teddy bears? This theme is fantastic because it allows students to have fun with teddy bears and gain knowledge about real bears as well. A great idea to incorporate into your theme is to have a teddy bear snack. You can bring in teddy bear shaped graham crackers or use bear cookie cutters to create a teddy bear cookie. This is an innovative way to tie the bear theme into snack time.
Teachers can incorporate crafts, songs, activities and books into this theme. Use these ideas to help you create an enjoyable unit on that your preschoolers will love.
Autumn
The autumn season begins at the end of September. This theme can start then and carry on into the month of November. This is a wonderful theme for preschoolers because they can go outside and see the leaves and weather change right before their eyes. Because this theme is so broad you can incorporate activities daily and have them tie together in a variety of ways. For example, every day during the morning calendar you can talk about the changing weather in autumn.
If you're looking for a variety of ways your students can gain hand-on experience while learning all about the autumn season, then use these fun activities and crafts to get started.
Share Your Thoughts
This educational guide for September preschool themes was written to help you create an enjoyable unit by focusing on topics such as back to school, autumn, Grandparents and National Teddy Bear Day, and Johnny Appleseed's birthday. Preschoolers will love using their fine and gross motor skills to create fun projects on September themes.
Do you have a question or would you like to make a comment? We would love to hear from you. Just scroll to the bottom of the article and use the comment section to send us your feedback. We're eager to hear from you!
References