Four Preschool Harvest Activities: Seasonal Foods and Projects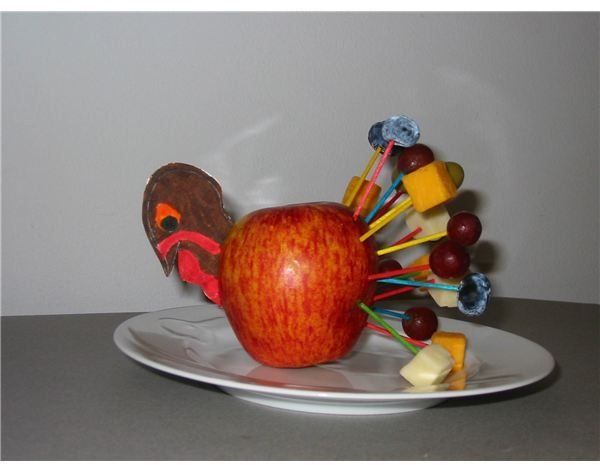 Plan a Fruit and Vegetable Tasting Party
The fall is full of fruits and vegetables for children to taste and enjoy. Choose apples of different colors, pumpkins, and squash. Look for local produce in your area and you may also include some dried fruits like prunes and dates. Help children practice saying the names of the fruits. If possible, show pictures of some of the places where these fruits might grow.
Let children touch, smell, and talk about the varieties of the whole fruit or vegetable, and then cut the fruit into tiny pieces to be tasted. Serve fruit tidbits with small crackers. Talk about the difference in taste, texture, and color. Then you may cook some of the fruits and vegetables and serve them again. Even fruits that wrinkle noses at first may become familiar and even favorites.
The Art of Food Construction
The children will love helping you make these two fun food constructions. After admiring and taking pictures of the projects, the children can taste and enjoy what they have made.
Vegetable Cornucopia
A cornucopia, also called a horn of plenty and usually some type of basket, is traditionally filled with vegetables from the harvest. In this case, the kids can eat the cornucopia as well as the veggies inside. Together make a dip and you have a fun and nutritious snack idea.
You will need:
Ice cream cones, pointed sugar cones
Cut vegetables; carrot sticks, broccoli or cauliflower florets, cherry or grape tomatoes, etc.
For the dip:
8 ounces sour cream
1 package dry onion soup or ranch-style mix
Procedure:
Invite the children to help fill each ice cream cone with cut-up veggies. Combine the sour cream and dry soup mix with a spoon. Chill until ready to serve. The children will enjoy dunking and eating this healthy harvest snack.
Apple Turkeys
Kids will have fun making these Apple Turkeys for an appetizer, snack, or dessert. It's a fun harvest party idea.
You will need:
Apples
Toothpicks (round, colored ones)
Cheese chunks
Olives, pitted
Fruits chunks
Cardboard to draw turkey heads
Procedure:
Spear toothpicks into one side of the apple to represent tail feathers. Place fruit, cheese, olives on each tip. Use caution and supervise children when using sharp objects like toothpicks. Draw and cut out a turkey head shape from cardboard. Invite the children to decorate this with crayons. Make a slit in the front of the apple (opposite the tail feathers) and insert the head.
Build a Scarecrow
Scarecrows help the farmers by protecting the crops from birds and other scavengers. This allows them to have a bountiful harvest. Show the children pictures of scarecrows that can be found in books. Ask if they think scarecrows look scary? Do they think the scarecrow would chase the birds away?
Together make a scarecrow in the classroom. Ask parents to donate the recycled materials you will need. Think about milk jugs as heads, cardboard tubes as arms, boxes as body parts, old clothing stuffed with newspapers and such. Work together to fashion these items into one or more scarecrows for your classroom and the playground. If possible get bales of hay to help stuff the scarecrow and to place on the ground.
Play a game with hay. Fill a child's wading pool with hay and hide small toys inside. The children can take turns digging in the hay for prizes. As a variation to hay, the pool can be filled with autumn leaves.
Sing a song together to emphasize the children's new found friend. The tune is "I'm a Little Teapot."
I'm a little scarecrow full of hay,
Stuffed my shirt and pants today.
I'm hanging on the fence post all day,
Please watch me chase the crows away!
(Author Unknown)
These activities should help to create a fun theme for your preschool class. Eat good foods and enjoy the harvest season!
Sources:
Cooking With Kids: Recipes for Year-Round Fun by Tania Kourempis Cowling [Fearon Teacher Aids, 1999]
Photo by Tania Cowling, all rights reserved