Thankfulness Activities for Kindergarten and Preschool Children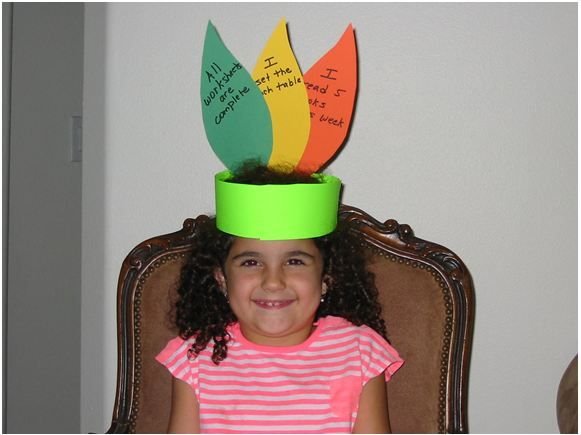 Leaves of Gratitude Garland
Thanksgiving is in November, which is the time when autumn leaves are abundant. Have the children cut leaves from construction paper in fall colors or orange, yellow, red, and brown. Give each student a leaf and invite him or her to write (or dictate) what he or she is thankful for on the leaf with a black marker. With crayons and markers, they can draw pictures of things they are thankful for and symbolic pictures of the holiday. Together use tape or a stapler and string these onto a long length of ribbon. This garland can be hung on a wall for a decoration of blessings.
Feather Awards for Good Deeds
Long ago, Native Americans were given feathers for each achievement attained and they still use feathers in their headdress for these tasks. Your children will love to earn some too. Make a construction paper headband to fit around the child's head and staple it shut. Set up a chore or project list at school or for home schooling. Teachers can cut out paper feathers in fall colors. Staple a feather onto the child's headband for each good deed they have completed. The kids will be proud to wear this headdress of honor!
Create a Booklet of Gratitude
The Thanksgiving holiday offers a great opportunity to take stock of all the good things in our lives. What better way than to create a catalog? Make a simple booklet by having the children glue magazine pictures or snapshots to construction paper. Alternatively, the child can use his/her own artwork. Included could be pictures of family, food, pets, house, toys, and so on. This could also be a take-home project where the parents work along side the child with ideas. After all, don't we all have things for which to be grateful?
Alphabet Game of Gratitude
Play this game of gratitude in the classroom or send instructions for this activity to do at home around the Thanksgiving table. The first player starts with the letter A, and makes a statement like "I am thankful for apples that are in our apple pie dessert," and then the next person uses B and may say, "I am thankful for my baby brother." Continue around the table with each person using the next letter. Can you get through the entire alphabet?
A Thankful Thanksgiving Turkey
This craft will use the child's handprints and footprint, which is a nice way to remember the child's features as the years go by. Begin by tracing around the child's foot (or shoe) and then trace around each hand onto construction paper. I suggest brown for the foot that will be the turkey's neck and the handprints in fall colors, which will resemble the turkey's tail feathers. The children can write things they are thankful for on each finger of the handprint. Young children may dictate their thoughts. Cut these pieces out.
To assemble, glue the footprint onto a lunch size paper plate. Behind the plate, attach the handprints with the fingers pointing up and showing as the tail feathers. Draw facial features (eyes and waddle) with crayons or markers. You could also make construction paper features. Children also love to glue on googly eyes.
A Snack of Gratitude
The ingredients of this snack mix has symbols that relate to the first Thanksgiving when the Pilgrims and Native Americans shared their blessings together. Mix several cups of each ingredient together in a large bowl to make this snack mix for your group to enjoy.
Bugles (brand) Corn Snack - they are shaped like cornucopias, also called horn of plenty
Knot-shaped Pretzels - these look like arms folded in thanks and prayers
Candy Corn - Pilgrims were only allotted five kernels of corn per day, as food was scarce
Dried fruit (raisins, cranberries, apricots) - Thanksgiving is a celebration of the fall harvest
Sunflower or Pumpkin seeds - these represent hope for a bounteous harvest next season
Sing a Song of Gratitude
Discuss that Thanksgiving is a special time to give thanks, just as the Pilgrims gave thanks for their plentiful harvest and food. This Thanksgiving song for children is sung to the tune of "Twinkle, Twinkle Little Star."
Let's be thankful for this day,
For our friends and our play.
Let's be thankful; let's be glad,
For our food and the things we have.
Let's give thanks for you and me,
And our home and family.
(Author Unknown)
Any one of these activities teaches valuable lessons in
References