How Parents Can Help Children with Learning Challenges Be Successful in School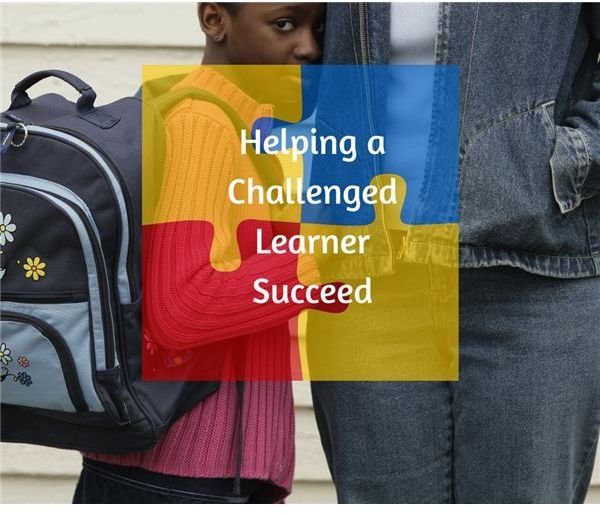 Ever since the implementation of PL 94-142, the Federal Special Education law that protects against discrimination of all learning disabled or special needs students and allows them a "free and appropriate public education," there has been much debate on how to deliver the most effective educational programs to challenged learners.
The pendulum has swung both ways regarding how much inclusion in the regular classroom is required to meet the child's "least restrictive environment," and how much instruction from special educators they require to meet the demands of their IEP, which is a legally signed document.
Kids are not the only ones challenged. Trying to include special education students and challenged learners into the regular curriculum has challenged regular teachers to balance their regular student load with the few special education students who were also students in their classroom and for whom they are now equally responsible on standardized tests.
Special education teachers are challenged by the overwhelming amount of paperwork and due process that is required and needed, but which also often detracts from the actual process of teaching and instruction to help already struggling learners. Parents are challenged by the idea of trying to decide how much special help is needed for their child, while still ensuring that they are with their peers in regular settings.
This is the purpose of the annual IEP meeting that is required each year, which addresses the amount of time needed in special education, which tools should be used to implement the best instructional methods, and how to set realistic goals for challenged learners.
What Parents Can Do
While there is no simple solution, parents of struggling learners can help improve their child's learning potential in public schools.
Study and know your rights. In order to make sure your child's school is following the requirements of your child's IEP and program, you must have a copy of your rights. These contain all of the important information about the process involved in developing an IEP and your rights and responsibilities as a parent. They are available with your school's counselor or due process coordinator or special Ed teacher.
Know the new federal regulations. Special education is a federally mandated program. Schools are required to follow the law and they know it. Assume they are, but check on this by talking to your child's teachers and asking questions if you do not understand the requirements.
Consider alternatives to special education if your child does not qualify for special services. Some students struggle in school but do not qualify for special education. In these cases, it is easy for some to slip through the cracks. Inquire if your school has access to special programs, tutoring programs and other options that may help your child with their areas of difficulty.
Schools are required to have a remediation program for students who are not meeting the test score cutoffs. If your child falls into this category, they may qualify for some other type of help here as well. Section 504 of the Medical Disabilities Act provides for help for kids who have a "medical" disability (such as ADHD, ODD, or mental or physical illness), which prevents them from learning at the same level as their regular peers. While these students will usually not qualify for special education services, they may still possibly receive modifications to tests and other aids, which will help the struggling learner, reach new levels of achievement.
Additional Help
Kids who are challenged learners face many challenges, as do the caregivers who help them, including teachers, parents and other school staff. There is help to be found through the federal special education programs in your school or through special programs outside of special ed., such as tutoring, remediation programs or Section 504. Look into these options if you have a challenged learner and realize you are not alone.
The first step is to ask the school to have your child tested if you suspect they have a learning problem. You will never know until you try. Schools generally want the best for all kids and they will be open to your suggestions if you communicate with them about your concerns.
Finally, technology has been one of the biggest saviors of kids with special needs. Apple, Microsoft and Amazon as well as other platforms are opening the doors for creation of new and better educational apps for struggling learners. Google has created an entire educational apps department to fill this need. We should see more of this trend in the future, and this will just be another tool educators and parents can use to help their kids succeed.
References