A Guide to Developmental Delays: Definitions, Parent Information, Activities and Considerations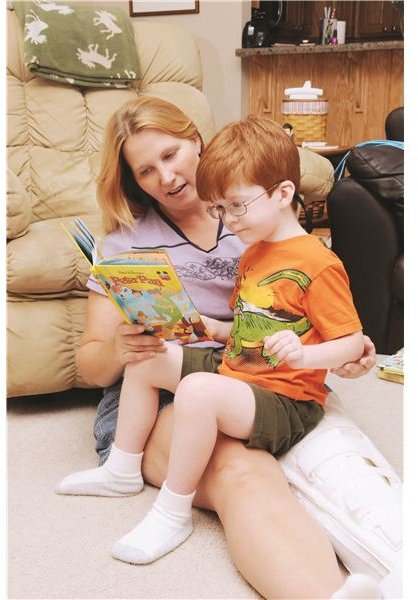 A Delay in Reaching Developmental Milestones
In the United States, 13.87 percent of children between the ages of 3 and 17 were diagnosed with a developmental disability between 1997 and 2008, according to the Centers for Disease Control and Prevention. The organization adds that this number has risen over the years: Over the last 12 years, the number of children who have delays in reaching their developmental milestones have increased by 17.1 percent.
These developmental milestones are broken down by the child's age. Until age 2, milestones are by months; afterwards, the milestone checklist is done by year. Parents and teachers interested in specific information can find the different developmental milestones by age from the Centers for Disease Control and Prevention in the reference section. The delays can range from minor to major, and they can be caused by different conditions.
The University of Michigan Health System notes that some of the causes are reversible, such as lead poisoning and chronic ear infections. Other causes are permanent, such as Down syndrome.
Defining a Delay in Development
So what does it mean when a child has a developmental delay? The delay may affect her language skills, cognitive skills, social skills, or gross or fine motor skills. These Bright Hub Education articles provide further information on the types of developmental disabilities, what the criteria are, and how to tell the difference between a delay and another disorder.
From Early Childhood to Teenagers
The University of Michigan Health System states that the first three years of a child's life are an important time for development. Parents should talk to their child's pediatrician if they suspect their child is not meeting her developmental milestones at the normal rate. Read on to learn more about developmental milestones, identifying delays during early childhood, and how these delays affect older children, such as teenagers.
Tips for Teachers Working with Students with Delayed Development
Special education teachers may have students in their classroom who have a developmental delay. Different techniques and tips can be helpful when working with these students. These Bright Hub Education articles include tips and different ideas, such as using play.
Specific Activities and Interventions
The activities and interventions that a special education teacher uses will depend on the specific type of delay. Does the student have a delay in her language skills? Or does she have a delay in her motor skills? Other lessons may be particularly helpful for students who are developmentally delayed, such as learning directions. Read on to find lesson plans and activities to use in the classroom.
Considerations to Keep in Mind
As with any special needs child, there are special considerations to keep in mind. These can range from educational, such as developing IEP goals, to personal, such as reaching puberty. The following Bright Hub Education articles touch upon practical and sensitive issues related to children who have developmental disabilities.
Helping Students Succeed
Parents and special education teachers share a goal and can work together to help children with developmental delays succeed. If there is a technique that is particularly helpful in the classroom, parents can work with the teacher to see if they can work together to reinforce the skills involved with that technique at home.
Teachers, are there specific tips you have for other teachers who are working with students with developmental disabilities? Or is there a lesson plan you have found to be successful in your classroom? Parents, do you have advice for other parents with children who are developmentally delayed? Please scroll down to the comments section below; Leave us a comment and let us know your thoughts!
References