Task Boxes for Children with Autism: A Review of Hands-on Tasks & Ideas, Inc. and Shoebox Tasks Products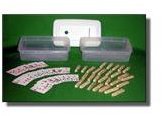 Hands-on Tasks & Ideas® Inc.
Jeanette Richards, the founder of Hands-on Tasks & Ideas® Inc., developed the company to furnish task box activities for children
who need to develop basic skills.
Their task box activities are based on the structured learning teaching modality developed by Division TEACCH. What sets a HOT Ideas task box apart from other boxes is their Double Box and Divider system that reduces reset time by 70 to 90 percent.
The nice thing about HOT Ideas is they offer task boxes for many different life stages: basic skills, vocational tasks, transitional tasks, and job training tasks.
You can start your kindergartner with task boxes to help them improve their fine motor or cognitive skills while they are learning basic skills and then transition them to more advanced work boxes as they grow.
HOT Ideas Products (5 out of 5)
This is an excellent one-stop shop for purchasing assistive tools for transitioning individuals with autism from a classroom or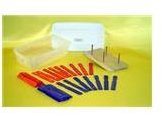 homeschool environment to an independent living and/or business environment.
Their task boxes are self-contained and have a small footprint so they can be stored in a minimum amount of space. They feature hands-on manipulatives, which appeal to the an autistic child's tactile senses and they are brightly colored, which appeals to their visual senses. The child does not need to be able to read, write or verbalize to use most of these unique boxes. (There are just a few that require reading skills.)
Parents, caregivers and educators can choose from task boxes that teach and reinforce skills like motor skills, problem solving and cognitive development.
Put in/on
Series one contains 7 tasks, series two 8 tasks, and series three 7 tasks. Prices range from approximately $228 to $285. The tasks in these three series are interactive activities like putting bugs into jars, zipping a zipper on a purse, and sorting coins that kids will love and want to do repeatedly. These tasks can also be purchased individually at prices ranging from about $31 to $43.
Matching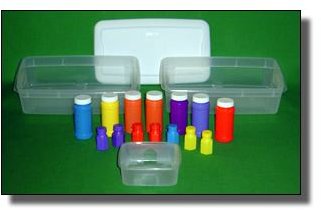 There are 33 tasks available in the matching group, many of which are bi-directional in nature; the second task is an extension of the first. For example, your child puts a washer on a peg and then takes it off.
Some life skills that can be learnt by using the matching series boxes are matching and folding socks and sorting and storing coins. Series one costs around $399, series two $475 and series three $436; prices for individual boxes average between $31 to $52.
Stacking
The stacking tasks encourage hand-eye coordination and exercise fine motor skills. The 21 tasks are broken down into three series of seven tasks each with price points ranging from approximately $280 to $295 for sets and $35 to $47 for individual tasks. Some typical tasks in this group are making pyramids, stacking objects on posts, and matching and stacking shapes and blocks.
Sorting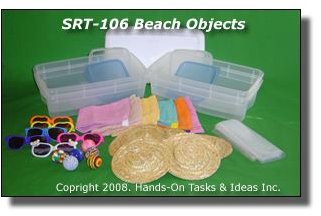 With 47 tasks from which to choose from, you can keep your kid learning in an enjoyable way for many hours. Children sort a wide range of objects like pencils, clothespins, toy cars or rocks that are fashioned from a variety of colors, textures and materials.
There are 16 tasks in series one, which retails for around $625, 15 in series two ($557) and 16 in series three ($643). Single tasks start at $32 and top out at about $46.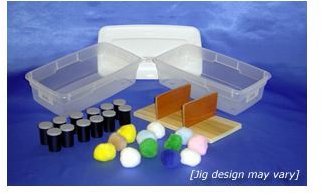 Fine Motor
There are three series available in the fine motor boxes and each series contains 10 tasks.
The series one tasks are primarily age appropriate for kindergartners and include activities like threading lace through eyelets, stringing wooden beads, or matching nuts and bolts and then assembling them.
Series two teaches some vital skills that will help children learn to dress themselves like zipping a zipper, buttoning and unbuttoning and lacing and tying.
Series three tasks are a little harder. Activities like weaving a basket, opening a combination lock and tying a shoe may or may not be appropriate for your child depending on their overall skill levels.
Series one retails for about $337, series two for $436, and series three for $411. Single tasks from series one range from approximately $31 to $40, series two from $33 to $51, and series three from $32 to $55.
Note: All prices have been rounded up to the nearest dollar, do not include shipping or handling, and are subject to change.
Shoebox ® Tasks (5 out of 5)
Shoebox ® Tasks are manufactured in a cottage industry owned and operated by Ron and Linda Larsen. Larsen is a therapist with the TEACCH program, who draws on his experience working with autistic individuals to create these innovative and unique task boxes.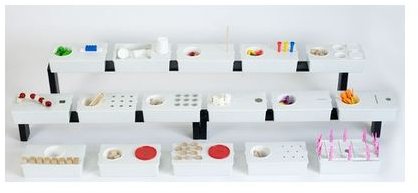 Their basic curriculum, which costs about $300, is sold as a set and consists of 16 tasks that develop and exercise various skills:
8 put-in tasks
3 pull-apart, put-in activities
3 stacking tasks
3 sorting activities
The materials used in this curriculum are washable and non-toxic and fabricated from wood or plastic. A nice plus is the company states that they use recycled materials (when possible) in the production of these boxes.
Fine Motor–Eye Hand Coordination Tasks
The tasks in this group help children develop important skills that they need to be able to read, write, grasp objects and use their fine motor skills. Each task cost about $35 and is self-contained and easy to set up and store.
These task boxes are appropriate for use with autistic children because they appeal to the child's visual and tactile senses. They are designed to provide repetition and practice and require no reading or writing skills.
There are seven tasks available in this group and they can be purchased separately:
Bead slide: This activity is a must for those children who are having trouble with the midline. They learn to cross the midline as well as exercise their hand eye coordination and fine motor skills when they are engaged in this activity.
Lacing: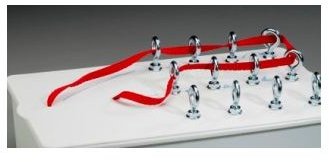 Lacing activities are fascinating for most children and this one offers the added plus of teaching them how to coordinate the use of both hands. This one is so much fun that they will never realize that they are developing their small motor skills while they are playing.
Pipettes: If you have several budding Van Goghs in your family, you may want to consider purchasing more than one of these boxes. After all, very few children can resist the temptation to play with colors and mix and match them to their hearts content. The good news is they don't know that they are building their small muscles and learning color recognition; they just know that they are having lots of fun.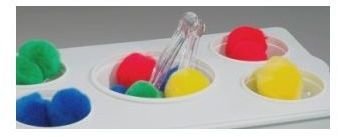 PomPom: This is another activity that is interactive and engaging because the kids get to use tiny tongs to pick up, sort and move pompoms from one place to another.
This activity encourages color recognition skills, basic counting, sorting, classifying, categorizing and even hand-eye coordination and fine motor skills.
Closure: Learning to screw a cap on a jar is not as easy as it seems, but this unique task will have your kids performing this operation seamlessly in no time. They just pop the object into the container and close the lid.
If you buy this one in conjunction with the PomPom one above, they can use the tongs to place the pompom into the container to exercise fine motor skills, but if you choose to purchase it as a stand-alone activity, they'll be exercising their pincher muscles to pick up the pompom and developing hand strength when they push it into the container and screw down the lid.
Stretch: Encourage your kids to create multicolored patterns and various layers of their loops as they work with this activity. This is another good task to help them learn how to work with both hands together and coordinate their efforts.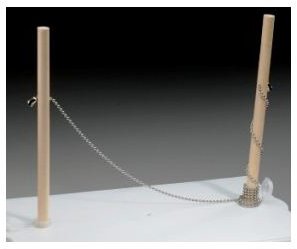 Twister: This one is listed on the website as an "open-ended task" and it's easy to see why. There are many different ways to approach this activity and the results would be different each time.
My guess is that this one would become a favorite task very quickly and would engage children for a long time. The benefit here is this helps them with any midline issues while encouraging hand-eye coordination and small motor development.
More Shoebox® Tasks
Pre-Academic Tasks
These activities develop and build on skills most kindergarteners are in the process of acquiring such as counting to five, recognizing colors, shapes and patterns, and sequencing:
Bead Stack: Children stack beads and count up to five. ($35)
Letter Shape Number Color Match: This activity takes students to the next level as they learn to count up to nine, recognize colors and shapes, and practice matching. ($50)
Color Match Sequence: Children use groups of three different colors of coins to learn sequence and matching. ($35)
Bead Patterns: The adult sets up the pattern of colors, which the child must imitate by stringing beads on a pipe cleaner or shoestring. ($35)
Shape Up: An adult establishes a given pattern of shapes and then the child stacks and matches objects according to the pattern - $35
Around the Block: The student turns over a multicolored block to match colors to a template on the box top. ($40)
Bullseye: This is actually four activities in one; the box includes four different puzzles. ($40)
Shoebox ® Tasks also offers task boxes for advanced skills such as vocational training and motivational tasks. Note: Prices quoted here have been rounded up to the nearest dollar, do not include shipping or handling, and are subject to change.
Tips for Choosing Task Boxes
When you are looking for task boxes for kindergarten aged kids, it's important to make sure the tasks are age appropriate so that the child will not become bored with tasks that are really too easy for them or frustrated by tasks that they are unable to complete.
Most kindergarteners should be able to:
Match, sort and categorize items by size, shape or color
Grip objects and stack them or place them on a post
Say and recognize their name
Zip, button and snap
However, it's also important to realize that a kindergartner who is autistic may or may not have developed these skills. If they need to develop these skills, it's best to look for task boxes that would focus on and help them with that particular task. If they already possess a particular skill - like zipping or buttoning - then you might want to consider opting for a task box that incorporates that skill but is more challenging than a more basic box would be.
Creative play is one of the best ways children with autism to learn basic skills, to develop large and small motor skills, and to learn concepts like cause and effect. Color and shape recognition skills are encouraged when the kids play and learn with their task boxes. You make even find that by talking to them about their activities, their verbal skills will either emerge or increase.
Pros and Cons of Task Boxes
On the plus side, these boxes are self-contained and designed to eliminate most of the visual distractions that can divert an autistic child's attention. Most children can work on the activities independently or with minimal adult intervention. They require no construction or assembly and pack away neatly for storage. Little to no reading skills are required and it doesn't matter whether a child is verbal or non-verbal.
On the negative side, the price could be a disadvantage for some families. It can be challenging to narrow down all the available choices and zoom in on the specific task boxes that are best suited to a child's needs. However, these are small disadvantages compared to the many benefits children can realize from the use of assistive technology like task boxes.
Should I Just Make One
Many parents wonder if they should just make their own task boxes to save a little money but in actuality, making an effective task box can be time consuming and probably does not save that much money in the long run. You would have to create the materials, find a suitable container, assemble the box and then hope it was age and skill appropriate for your child.
If you're like the parents of most children with special needs, you really don't need one more task or project to add to a schedule that is probably already too full. While you are fully capable of making your own task box, doesn't it make better sense to buy a pre-made one and invest your time and talents in another area?
Share Your Success Stories
We love to hear about your success stories, so please share them! Have you purchased a task box from one of these sources? If so, how was your experience? What other ideas do you have on this subject? Just scroll to the bottom of the article to share your comments with our community. We'll be waiting to hear from you.
References and Image Credits
Shoebox ® Tasks, Centering on Children, Inc.
The author is the parent of a child with autism.