Twilight as a Stepping Stone, Not a Final Destination
We all celebrated when Stephenie Meyer got every teen and tween in the country reading with her Twilight Series. In no way would I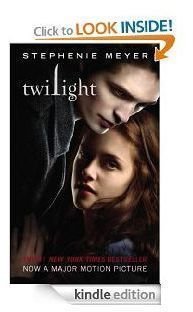 belittle her success or the great achievement these books had in promoting reading among traditionally non-readers. For one thing, Twilight and its sequels helped me out as an English teacher. I'm confident I had far fewer students vehemently opposed to reading than I would have had without their influence.
This being said, we're kidding ourselves if we pretend that the Twilight saga is the be-all and end-all of literature for teens and tweens. As parents and educators, it's our job to take this spark of interest so generously given to us by Ms. Meyer, and use it to guide these readers toward richer, more challenging literary experiences.
Exploring More Juvenile and YA Fiction
If your tween or teen hated reading before Twilight, you might encourage her to stick with books intended for her age group until she's found her footing. In these genres she'll find characters she can relate to and issues that are relevant to her. Oh, and she'll find plenty of vampire-free plots too. I do think it's important to lead teens and tweens away from this niche, not because there's anything wrong with it, but because it's so limiting. Plus, lots of trash vampire fiction is being written lately to ride Meyer's coattails of fame and fortune, and there's no point in wasting her time with junk. Look for juvenile and YA novels that are known for their literary merit. Award winners are a great place to start, but don't forget to look for strong reviews from Booklist and School Library Journal too.
Quality Juvenile Literature for Tweens
When You Reach Me by Rebecca Stead (a 2010 Newbery Medal Winner)
Matilda by Roald Dahl (a classic and personal favorite)
The Mysterious Benedict Society by Trenton Lee Stewart (received a "starred review" from both School Library Journal and Booklist)
Quality YA Literature for Older Teens
The Hunger Games by Suzanne Collins (a 2008 School Library Journal Book of the Year)
The Book Thief by Markus Zusak (a 2007 Printz Honor Award Winner)
Speak by Laurie Halse Anderson (a 2000 Printz Honor Award Winner)
Delving into Adult Literature
If your teen or tween wants to dig into contemporary adult literature, she can look beyond Nicholas Sparks and John Grisham for a well-written story that will stick with her for years to come. ALA (the American Library Association) makes it easy to identify quality books written for adults but with special appeal for teens with their Alex Awards. Of course, if you're concerned about content being too adult–especially in regards to language and sexuality–it would be a good idea to preview these books before passing them on to your teen.
Taking the Plunge into Classic Literature
There's plenty of excellent fiction being written and published as we speak, but at the risk of coming off as a book snob, I still say we should be directing young readers toward the ultimate challenge and reward of classic literature. There are many classic novels, however, that I would not suggest a teen read on her own, simply because she would benefit from (and possibly be lost without) the guidance of a teacher facilitating discussion. The following are classic novels that are accessible and appealing to the teen crowd.
These lists are just a starting point for you and your teen/tween. There are so many excellent options out there, you're sure to find something–many things actually–that strike her fancy. With a some guidance and a gentle push, she'll be a genuine bibliophile before you know it.