Student Exercises for a "Roll of Thunder, Hear My Cry:" Teachers Can Create a Student Page for the Class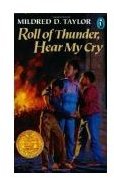 Universal assessment of student learning at the end of a reading is a tried and true way of observing your students' retention and
understanding of the literature. This way of teaching is viable but is not always a good choice for students. Many of them will benefit from checkpoints as read through the literature. This is especially true for readings as profound as this Mildred Taylor title. A good way to provide feedback on students' comprehension of the book's themes is to assign exercises to complete as they read. Here are a few ideas for composing a Roll of Thunder, Hear My Cry student page.
A Family Tree of Characters
Filling the branches of Cassie's family tree helps readers to keep track of characters in the story and their individual storylines. Place this exercise on a Roll of Thunder student page for them to fill in each Logan family member's name and pertinent and intriguing details about the character. As a challenge, encourage learners to list quotes on the tree next to the name of character who said if space is available. If space is limited, leave room at the bottom of the tree.
Puzzling Discrimination
This exercise is all about vocabulary found in the book, particularly terms that support and challenge racism. As you cover this title, make note of terms that support the message Taylor is sending in the book. Some of the terms convey the impact and multiple dimensions of slavery to readers while others relate to readers the pain that where stereotyped against felt from prejudiced people they promote, then and now. Crossword Puzzle Maker.
Name That Boycott
Give students blocks of text that describes notable events in history during which Americans have boycotted in opposition to inequality. These events do not necessarily have to focus on the civil rights of people of African descent; they can surround any instance in history when advocates and oppressors of civil rights met in head on in confrontation. A list of the names of events should accompany the events, with a good helping of curve balls thrown in to keep students on their feet.
Three Offenses and You're Out!
How many times can one be offended before they snap? For some it only takes one time, but for many people it takes a number of times before they retaliate. In Roll of Thunder, the Logans, and the other blacks in the county, find themselves faced with adversity at every turn, yet they manage to avoid falling into the pitfalls of racism where the white people of the county want them to land. Make this an exercise where your class must name all of the events in the book in which prejudiced attitudes rear their ugly heads and blacks fail to succumb to the bile they spew. When students have provided notes for these occurrences, then they must furnish instances in which the blacks in the book fought back.
My Life in the 1930s
A report of an interview conducted with a living relative or an ancestor of students paints a picture of life in the 1930s for a lasting impact on students. Readers of all races realize a multitude of gains from this activity by taking the history from their books and relating it to their own lives. If a family member is unavailable, encourage students to interview someone they are close to such as another teacher, a church member, a tutor, family friend, or neighbor. Possibly the teacher can arrange for students to visit nursing home residents who are willing to share their stories. Require learners to present their interview at the end of assignment as an oral report.
.
Use the Internet
Incorporate the use of the Internet into instruction for this book to meet your class's technological needs. Many websites offer free site builders for teachers to use with their classes. Through these resources, you are able to create a "Roll of Thunder, Hear My Cry student page" for upload of the exercises from this article. Printed copies of the exercises are also a good to keep on hand for students to use when they cannot access the class website.
Additional free class websites resources:
This post is part of the series: Roll of Thunder, Hear My Cry Unit Study
Use lesson plans, including a study guide, based on the novel by Mildred D. Taylor. Lessons are targeted towards middle school readers.