Creative Writing Lesson Plan on Clustering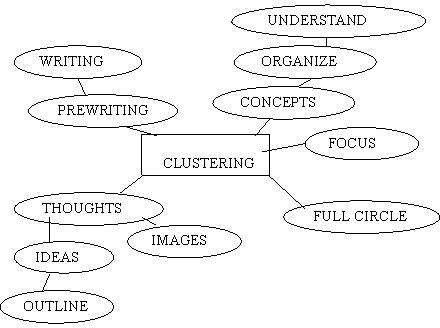 Clustering is an incredibly powerful tool in the English classroom. It serves two main purposes: curing writer's block and organizing thoughts to understand literature, plays, history, etc.
For writers, clustering is a tool to silence their inner editor. Every thought that pops into their heads is written down as a simple word or phrase. The free association can continue to flow in the same direction, or head off on a new tangent. Once the thoughts are expressed as a cluster, writers are then able to go back and pick and choose among the various trains of thought. Look at or click on the sample cluster below:
Example of Clustering
**
Start in the box with the word "Clustering." Clustering is a prewriting tool, and that tool leads to writing. Clustering causes writers to pay attention to any thoughts that pop into their heads about the original word. Thoughts come out as images and as ideas. The ideas often end up in an outline of what will be written.
Clustering allows writers to focus. Clustering causes writers to come "full circle" with a concept, as they are readily able to write down everything associated with the word, including opposite viewpoints. Clustering helps writers break down concepts which makes those concepts easier to organize. Once information is organized it becomes easier to understand.
Introducing Clustering
To introduce students to clustering, remind them to write down everything that comes to mind and to free associate. Give the class a word to cluster. For example:
BODY
FRAGMENTS
BLUE
CIRCLE
WATER
Have your class cluster one word at a time. Use a separate piece of paper for each cluster so each time they begin they are looking at a blank slate. The fun begins when students share and discuss their individual clusters, as different students will likely embark on different tangents.
Display clusters on the wall after the activity; this gives students the opportunity to compare the various tangents they came up with. Remember that words with more than one meaning will most likely bring up the most interesting results when shared.
Once students are familiar with clustering, they can use it as a tool for any writing project.
Additional Reading and Teacher Resources
Unjournaling: Daily Writing Exercises that Are NOT Personal, NOT Introspective, NOT Boring!
501 Writing Prompts (LearningExpress Skill Builder in Focus)
Writing Lessons for the Interactive Whiteboard: 20 Whiteboard-Ready Writing Samples and Mini-Lessons That Show You How to Teach the Elements of Strong Writing
This post is part of the series: The Power of Clustering
All teachers can teach students to cluster: to organize students' thoughts and ideas, to use as a study skill, and more.