Acrostic Poem Lesson Plan for Younger Students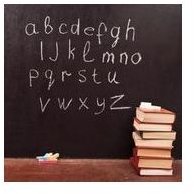 Lesson Plan Overview
Writing an acrostic poem requires turning a word into an acronym.
This lesson plan helps you teach your students to take a word that has special meaning – their name, a pet's name, a season of the year, a holiday, the school – and use each letter of that special word as the first letter in a word that captures the essence of the special word.
A good acrostic poem lesson plan requires a rough draft, peer revision, and a typed final copy. This activity can be even more fun if it includes an illustration.
Procedures
Writing an acrostic poem appeals to learners at all levels. Those who struggle with word usage find it unintimidating and those with high language skills find it challenging to describe something's essence with only a few words.
Choose a word that is important to you. Write your own poem using that word to model the poem.

Give the children word banks, or brainstorm words of interest on the board. Spend some time on this part so they have several words to choose from when writing the poem. Save these banks for future acrostics.

Make an ABC word list on a poster with words such as always, best, child, dear, etc.

Here is an acrostic poem for CHILD
Cute
Helpful
Interesting
Little
Dear
Writing
Rough Draft
Instruct students to create their own poems using the word banks.
Peer Revision
Instruct children to read their poems to each other and trade poems with another child in the group.
Encourage students to give each other suggestions.
Ask questions: Does it make sense? Is the description accurate?
Typed Final Copy
Instruct students to return to their own desks and edit the poems.
Type on the computer and illustrate poems.
Make sure the picture matches the poem and make sure they are very colorful.
Mount for display
Display
Have the children read their poems to the class and then hang them up in the hall for all the school to see!
Further Reading
For more great poetry ideas, check out these creative poetry lesson plans.
Resources
A couple of really great resources for this activity are
Little Explorers Picture Dictionary at Enchanted Learning.com
Acrostic Poems for Children at Holy Cross University.