A Collection of Fifth Grade Lesson Plans: Language Arts, Math, Social Studies, Science, Phys Ed, Art, and Music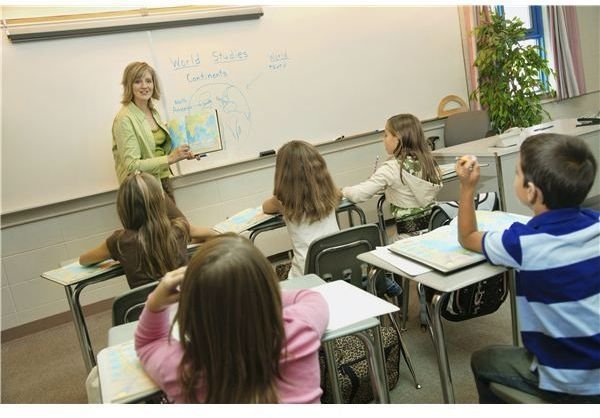 Language Arts
These lessons focus on reading skills but may be used as part of a reading/ writing workshop.
The first two lessons, Thesaurus Skills and Latin and Greek Roots contain activities for expanding students' vocabulary. Through vocabulary expansion, students' reading comprehension improves. The following three lessons expose students to different writing genres. Fiction Genres includes four different activities for teaching students about fiction. Biography Sketch is a lesson to teach biography designed as a part of a writer's workshop. Autobiographical Speech includes an activity that requires organizing and presenting information orally along with a 'me bag.'
The following five lessons focus on writing skills. The Writing Process lesson is designed to be used as part of a writer's workshop period. The Topic Sentences lesson offers specific elements for writing topic sentences that all levels of learners can apply to their writing. Writing Conclusions includes specific techniques in writing strong, effective conclusions. Writing Dialogue begins with an introduction to sensory details then follows with an activity requiring students to work with character dialogue. Story Frames and Fiction Writing offers a method for including story frames into your writer's workshop period.
Mathematics
The lessons here focus on different fifth grade math objectives. The first lesson, Geometry, uses gumdrops and toothpicks to make a polyhedron. The Math Ratios lesson uses pizza to teach about ratios. R_ounding Numbers_ uses a whole group direct instruction approach and moves students to independent practice using a word problem requiring students to apply this skill. _Order of Operations_ offers engaging ideas on teaching the order of operations to fifth grade students. _Prime and Composite Numbers_ is a hands-on lesson that uses an interactive approach combined with specific student instructions for learning about prime and composite numbers.
Social Studies
The links in this section focus on social studies topics taught in grade five.
The Industrial Revolution lesson uses the Lorax by Dr. Seuss to teach about the industrial revolution. The Civil War Maps includes links for maps online; teachers can print out model maps for students' references while creating their own. The Immigration Teaching Unit provides ideas for teaching a unit on this topic. The Expansion and Exploration lesson identifies literature to use when teaching this topic. Last, the Early Explorers lesson includes two methods for teaching this topic: quiz games and journal writing.
Science and Health
In this section, the links presented focus on science and health topics taught in grade five. The first five links are lessons that focus on learning about plants in science. The last five links include lessons and ideas for teaching about the human body in science and health.
The first lesson, Plants, involves learning about plants and how they fit into the ecosystem. The Ecosystems lesson requires students to identify what they already know about ecosystems and what they want to learn through an interactive activity; this lesson helps to inform instruction for future ecosystems lessons. The lesson, Habitat, includes the use of a smart board for introducing habitat followed with an assignment for creating a habitat with a partner. In Animal Kingdom Classifications, the book, What is the Animal Kingdom, by Bobbie Kalman is used to teach about animal classifications. Last, Categories of Vertebrates includes a lesson to teach about the five categories for classifying vertebrates. This lesson includes a song to help with memorization.
The following links connect you to lessons and ideas for teaching about the human body. Body Systems offers two activities to teach about the human body along with links to worksheets to use along with the activities. Human Body Muscles includes links to worksheets as well, and also includes a video for students to view. Other internet resources for teaching about the muscles of the body are also included. The Human Body Model Projects link contains ideas for creating and conducting a lesson for creating a project on the human body.
Physical Education
The lessons presented here are for your fifth grade physical education class. The first lesson, Dodgeball Variations, provides alternate activities for the game, Dodge-ball. The Rhythm, Balance and Movement lesson includes activities using balls, ribbons, hoops and music to introduce students to these topics. The Fitness Unit link offers several lessons for running, jumping and making teams. Last, Jump Roping includes basic jump roping techniques to the more advanced moves.
Art
Engaging art lessons are presented here. With the Types of Lines lesson, students learn about lines through the observation of Van Gogh's Starry Night painting. Students also create their own works of art. In Recycled Art: Pop Cans Project, students create a sculpture using recycled materials. The link, Pop Art Mural, provides ideas for creating themed murals in public places such as park benches. Last, Watercolor Lesson teaches students the basic watercolor techniques for creating a landscape.
Music
The lessons in this section include introductions to the different types of instruments. All lessons include the use of an instrument from the specific instrument family as well as music to play for the students so they can hear the sounds from that family's instruments.
Students listen, view and write during these music lessons.
As your students build their knowledge base in the different subjects, the curriculum and objectives continually progress to include more difficult skills and objectives. By providing a variety of lesson designs and activities, students are better able to store learning into long term memory. This storage supports automatic retrieval and use. As they move through the middle school years and into high school, they continually store, retrieve and build on this prior knowledge base. Using the various lessons and ideas presented here will support long-term memory retention and automatic retrieval of skills so that all of your fifth grade students experience academic success.
References