Enrich the Lesson
Use the Grandfather's Journey to provide background information about Japan, stories from culturally diverse families and for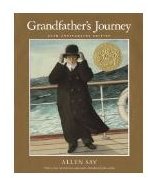 additional crafts and projects. This beautifully illustrated Caldecott Medal winner recounts the story of a young Japanese man who is torn between his love for the land of his birth and his home in California. Provided here are some test questions and suggested materials to complement the book.
Short Answer Questions
Describe the difference between the young man's clothes in Japan with the European clothes he wore.
What happened to each man as he moved from California to Japan or from Japan to California?
List the ways Japan and America are alike and different.
Draw a family tree with the three generations of Grandfather's family.
Why do you think the book was chosen to be a Caldecott Medal winner?
Which page of the book illustrates how America was a "melting pot" and why?
Describe a time when you have been homesick. What things did you miss?
Fill In the Correct Word
1. The young man crossed the __________Ocean to travel from Japan to America. (Pacific)
2.The young man traveled on a _________________ to get to America. (Steamship)
3. It was ________________weeks before the young man saw land when traveling across the ocean to America. (three)
4. The young man used these three ways to travel around North America.
___________________________,________________________.__________________
(train, riverboat and walking)
5. Farm fields reminded the young man of _________________. (the ocean)
6. The young man thought the rivers were as clear as ______________________. (the sky)
7. He shook hands with _________men, ____________men,_____________men and _____________men (What colors?) (red, white, yellow, black)
8. The young man liked ______________________the best. (California)
9. He went back to ______________________to marry his sweetheart. (Japan).
10. The young man and his bride lived by this bay city_____________________. (San Francisco)
11. When the man started to think of his homeland he surrounded himself with __________________. (Songbirds)
12. A _____________ destroyed the man's house in the city. (war or bomb)
True or False
1. After he married his sweetheart they stayed in Japan. (False)
2. The more the young man traveled the more he missed his home. (False)
3. The young man was bewildered and excited by the huge cities and factories. (True)
4. The young couple first had a baby boy. (False)
5. He took his daughter to see his homeland when she was young. (False)
6. When the man returned to his homeland he bought a house in the village because his daughter liked it there. (False)
7. The man raised birds in his home in Japan. (True)
8. When his home was destroyed, the man returned to California. (False)
9. The man's daughter met her husband in California. (False)
10. The man missed the mountains, rivers and old friends in his homeland. (True)
Read More About It
Other useful resources you might consider are:
All About Japan: Stories, Songs, Crafts and More by Willamarie Moore has instructions for doing origami, dances, songs and haiku. Included also are Japanese stories and recipes.
Japanese Immigrants, 1850-1950 by Rosemary Wallner is a book, which is part of the Coming to America series.
The East-West House: Noguchi's Childhood in Japan by Christy Hale provides a picture-book biography of the early life in Japan of a famous artist whose heritage is Japanese and American.
Japanese Traditions: Rice Cakes, Cherry Blossoms and Matsuri: A Year of Seasonal Japanese Festivities by Setsu Broderick shares memories of childhood in Japan. The book includes games, food, toys and festivities.
The Way We Do It in Japan by Geneva Cobb Iijima is the story of a young boy who suddenly has to move from California to Japan when His father gets a job transfer. Learn how the cultures are alike and different.
Japan: Over 40 Activities to Experience Japan – Past and Present by Debbie Michiko Florence provides activities to learn to speak and write Japanese words, practice origami and more.
Time for Assessment
If you have included some of the above supplemental materials, you may want to add an individual or group project in your assessment along with the Grandfather's Journey test questions. Consider some of the following ideas:
Cook a Japanese recipe
Write a haiku
Draw a map of Japan
Research what happened to Japan in World War II, or
Teach the class how to do an origami figure.
This book can be used as a springboard for many different lessons: Learning about Japan, cultural differences, Caldecott winners, World War II or even feelings such as home sickness. The Grandfather's Journey materials will help you expand your lesson and the test questions and projects will simplify your assessment of what students have learned.
References
Zurlo, Tony. The Japanese Americans.Lucent, 2001.

Wallner, Rosemary. Japanese Immigrants, 1850-1950. Blue Earth Books,2002.

Hale, Christy. The East-West House: Noguchi's Childhood in Japan. Lee and Low Books, 2009.

Broderick, Setsu. Japanese Traditions: Rice Cakes, Cherry Blossoms and Matsuri: A Year of Seasonal Japanese Festivities. Tuttle Publishing, 2010.

Iijima, Geneva Cobb. The Way We Do It in Japan Albert Whitman and Company, 2002.

Florence, Debbie Iijima. Japan: Over 40 Activities to Experience Japan – Past and Present. Williamson Books, 2009.

Moore, Willamarie. All About Japan: Stories, Songs, Crafts and More. Tuttle Publishing, 2011.

Image Source: http://commons.wikimedia.org/wiki/File:Origami-crane.jpg