Frederick Douglass: Lesson Plans and Project Ideas for Third Grade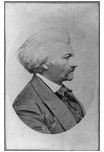 Frederick Douglass
Frederick Douglass faced many struggles during his life. Douglass grew up as a slave. He became an effective speaker who spoke about the need to abolish slavery and racial equality.
Douglass had lived his early life as a slave. He was born in February 1818 on Maryland's eastern shore. The boy was raised by his grandmother and aunt. He saw his mother a few times a year. The only fact he had of his father was that he was a white man. He saw the brutality of slavery and was often cold or hungry living the life of a slave. When he was eight he was sent to Baltimore to live with a shipbuilder. Douglass learned to read and write while living in Baltimore. It was also the first time his eyes and ears were open up to the term abolition and abolitionist.
When Douglass was a teen, he was sent to work on the farm of a notoriously harsh slave owner. He was treated inhumanely at the farm - beaten daily and hungry at all times.
At the age of eighteen, Douglass escaped to New York with a new bride and his new-found freedom. The newlyweds settled in New Bedford, Massachusetts. Frederick continued his quest for knowledge and education. He joined a church and attended abolitionists' meetings.
Douglass became a spokesperson for anti-slavery and equal rights issues. He was an eloquent speaker with a passion for his purpose. Douglass published a book in 1845, Frederick Douglass, an American Slave, Written By Himself. He continued to fight for abolition even consulting with President Lincoln during the Civil War.
Quotes From Douglass
Douglass was an inspiring orator. There are many encouraging and uplifting quotes to read from Douglass's life.
"What is possible for me is possible for you."
"If there is no struggle, there is no progress."
"Once you learn to read, you will forever be free."
Choose a quote from Douglass's life to explain with an illustration. Take a 9-by-12 piece of art paper and fold it in half. On one side of the paper draw an illustration from Douglass's life which helps to explain the quote. On the other side of the paper, draw an illustration explaining what the quote means in your life. Copy the quote to the paper, spanning both drawings.
For instance, the quote, "If there is no struggle, there is no progress," could have a picture of Douglass as a young man arriving as a free man in New York. On your side of the paper, draw a picture of something you work hard at completing. If you practice for the swim team every morning before school, draw a picture of yourself swimming. If you show pigs at the fair, show yourself feeding your pig. Mr. Douglass worked hard to become a free man. With your example, show that you understand what Douglass meant through his words.
Map It!
Map the route that Frederick Douglass took from Maryland to New York on his quest to be a free man. Douglass passed through Delaware and Pennsylvania on his way to New York. Recreate a map of the eastern seaboard or find a map to color. Highlight the route Douglass took on his 24 hour sojourn to freedom. Include a compass rose and legend for your map.
Write a Letter
Frederick Douglass arrived in New York then sent a letter to Anna Murray, a free black woman in Baltimore. He asked Anna to join him in New York where they were married. Imagine you are the now-free slave, Frederick Douglass. Write to Anna asking her to come join you as a free man in New York. Include the sights and smells of the city, along with the feelings you are experiencing as a free man.
Read About Rosetta Douglass
Read Rosetta, Rosetta, Sit by Me, by Linda Walvoord. This is the story of Douglass's daughter Anna and her quest for education. Anna was the first African-American girl admitted to an all-white female school. The other pupils were accepting of Anna; however, the staff at the school was not.
This is a story told from Rosetta's point of view about Douglass's strife to have equality in education. Make a timeline of Rosetta's life. Include the events that Rosetta and her dad initiated on behalf of desegregation. Use blank index cards with captions and photos or illustrations to depict the events in Rosetta's life.
References
PBS Online: Africans in America: Frederick Douglass
Library of Congress: Frederick Douglass, 1817?-1885
Good Reads: Frederick Douglass Quotes
Walvoord, Linda. Rosetta, Rosetta, Sit By Me, Marshall Cavendish Corp/Ccb (October 2004)