Beautifully Illustrated
Good Dog, Carl is a beautifully illustrated picture-only book by Alexandra Day. It's one of a series of "Carl" books that are all about the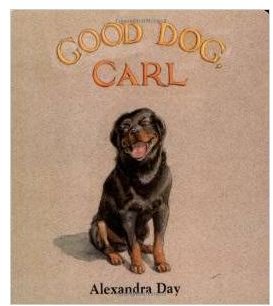 adventures of a Rottweiler named Carl. In this first book, Carl takes care of the family baby when mom goes out for the afternoon. There are all sorts of troubles and adventures, but Baby is fine thanks to Carl. The illustrations are so amazing that the entire story easily unfolds through the pictures.
Using Illustrations as a Prompt
Picture book illustrations make great creative writing prompts for children. The pictures help to assist the student in developing a story, but since there are no words, kids can creatively weave their own stories using the pictures and their own imaginations. The illustrations in Good Dog, Carl are very interesting to children, with a dog and baby as the main subjects.
Share the Story
Begin this lesson by sharing the book with the entire class. Spark the students' imaginations as the story unfolds. You are sure to hear lots of impromptu explanations as each picture is shown. In an organized manner, encourage verbal responses from the children as you explore each page together. This portion of the lesson is the background for a creative writing lesson using Good Dog, Carl as a writing prompt.
Ready, Set, Write
The students will now write their own version of the story. They will place the title at the top of their paper. Next, the students will write words to fit the story illustrations to create a written version of the book. Display the pictures from the first two pages, then move on to the next two pages. Everyone will complete the story together. Unless you can find a big book version of the story, you will need to walk around with the book so that every student can see the pictures. Have the children skip a line between the pages as they write the story.
Teachers could also use the book in a center. Place the book and paper in the designated area. Have the child look at the book and write their own words for the story on the paper provided in the center, skipping a line between pages of illustration.
Students might like to share their stories with the class. It will be interesting to hear all the different versions that the students create.
However you choose to use it, Good Dog, Carl and the other illustration-only books in the Carl series make great creative writing prompts for children. Kids love dogs, and Carl is such an interesting canine, no kid can resist him.