El Dia del Padre - Spanish Vocabulary for Father's Day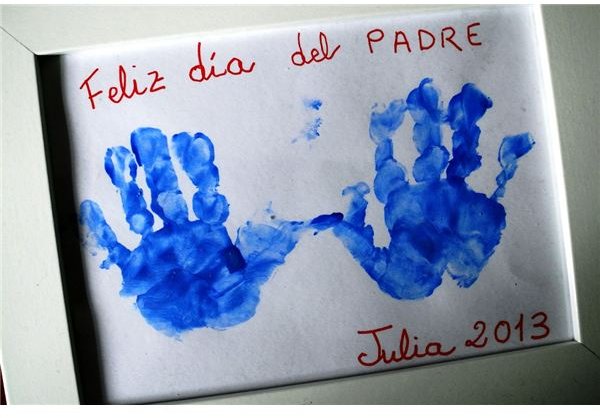 Origins and Traditions
In Spain and Portugal, El Dia del Padre is celebrated on March 19. The religious background is that the date is the name day of Joseph, or San Jose, the father of Christ.
Many Latin American countries follow the American tradition of celebrating Father's Day on the third Sunday of June. That date originates with Mrs. Sonora Smart Dodd of Spokane, Washington. While listening to a Mother's Day sermon on the radio in 1908, she thought that fathers deserved the same honor. On June 19, 1910, she established the tradition, but it took a long time for the celebration to catch on. President Calvin Coolidge backed a bill in 1924 and Father's Day became an official holiday in the United States. The date was adopted by such Latin American countries as Argentina, Colombia, Mexico and Paraguay, among many others.
Spanish Vocabulary Related to Father's Day
El dia del padre - Father's Day
querido papa - dear dad
te quiero - I love you
El padre - father
El tio - uncle
El abuelo - grandfather
El hijo - son
La hija - daughter
La nieta - granddaughter
El nieto - grandson
Los padres - parents
celebrar - to celebrate
El regalo - gift
El ramo de flores - bunch of flowers
La tarjeta - card
La sorpresa - surprise
El carino - love
El amor - love
El beso - kiss
El abrazo - hug
El dia festivo - holiday
La cena - dinner
La vela - candle
La tradicion - tradition
religioso - religious
La iglesia - church
La poema - poem
El protector - protector
La familia - family
El bien estar - well being
vigilar - to watch
Ganar la vida - to make a living
querer - to love
padre no hay mas que uno! - you have only one father
Celebrations
Along with fathers, uncles and grandfathers are honored and praised on Father's Day. The idea is that they are all protectors of the family, (at least theoretically) earn the living and watch over the family's wellbeing. Celebrations of Father's Day not only include the children, but also the mothers. The entire family makes it a special day for Daddy, giving him cards, flowers and gifts. Many restaurants in Spain serve a special Father's Day menu in the evening.
Sweets and cakes play an important role, often decorated with icing depicting good wishes or even short poems. Enjoy the last line from an anonymous Father's Day poem:
Quiereme y dimelo
Me gusta oirtelo decir!
Love me and tell me so,
I like to hear you say it!
References