Bright Hub Review: KidSpeak Spanish Language Software: Good Value for What You Get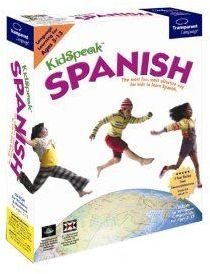 KidSpeak Spanish: the Approach (4 out of 5)
KidSpeak Spanish is a Transparent Languages software program intended for use by grade school children ages 6 and above, but could also be enjoyed by adults (the young at heart?) Designed by educators who understand the capacities and interests of children, KidSpeak Spanish is a total immersion program that is simple to install, fun to use, as well as intuitive for most children to navigate. That being said, it might be a good idea for a parent to help their child get started with the program, just to make sure that the child understands how to use the program. Once a young learner understands the basics of the program, he or she will find it easy to learn and use.
Throughout the program, the student will be accompanied and led along by cartoon character Pepa and her wild horse, who interact with the learner only in Spanish. The design is easy for a child to use, as he or she simply points with the mouse and clicks on whichever game, activity, or song he or she wants. And if at any point the student needs help, every page of the program has a question mark in the upper right hand corner where the learner can click for help in English.
KidSpeak Spanish applies the philosophy that children will learn best when they are having fun – that is, when they do not really realize that they are learning at all! Therefore, the software does not include any tests or evaluation material. All of the content is made up of Spanish words and phrases, games, puzzles, and songs. The music and animation also help kids (or adults) interested.
KidSpeak Spanish: the Content (4 out of 5)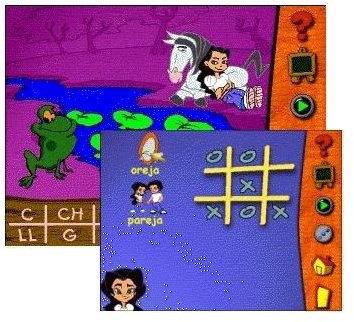 The KidSpeak Spanish software covers a wide range of topics and has native pronunciation of all the language material. However, buyers should be aware that the pronunciation is of Castilian Spanish – that is, the accent of Spanish as spoken in Spain. This has a distinctly different sound that the accent of the Spanish spoken in Mexico and the countries of Central and South America. But, as long as you do not mind your children speaking with the Castilian accent, you will find that this curriculum does an excellent job of teaching pronunciation. The learner will hear words pronounced over and over, and in sequence with other words, as he or she navigates through the fun games and activities.
The topics covered by KidSpeak Spanish range across a variety of genres. Through using this program, students will cover many domains of vocabulary, including: greetings, clothing, fruits and vegetables, numbers, animals, dates and times, colors, body parts, everyday items, school supplies, sporting goods and weather terms. While learning important words in Spanish, students will also be learning important language and grammar skills as well, including: pronunciation, singular and plural forms and formation of sentences. The program also helps students learn skills that are not just limited to the Spanish language, such as doing simple addition and subtraction.
The software includes twelve printable projects and activities that reinforce the content learned on the CD.
KidSpeak Spanish: the Cost and Availability (5 out of 5)
You can buy KidSpeak Spanish online at Amazon for $39.95. The program is fun for children to use, and the reasonable price certainly makes it worth trying out.
Potential Issues (3 out of 5)
There are two aspects of the program that, while appreciated by some users, may be seen as drawbacks by others. The first is lack of tests or evaluative tools: while this can make learning more "fun," it may prove frustrating to children, or their parents, who would like to check their progress. A second thing potential buyers should consider is that KidSpeak Spanish is not designed to make your child fluent in the language; instead, it is simply a good tool for learning a number of common, useful, words and phrases
This article has been placed in our archives.