Review Learn in Your Car Spanish: CDs for Language Learning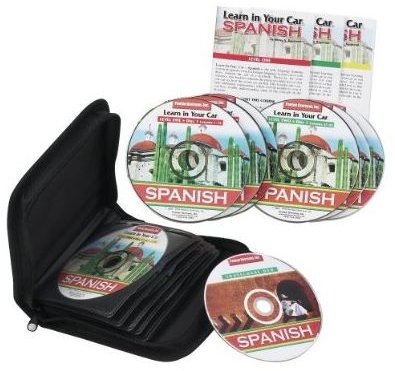 Learn in Your Car…or Anywhere, Really! (5 out of 5)
The "Learn in Your Car Spanish Complete Language Course" is some of the best language learning software for the learner who is constantly traveling. If you want to learn Spanish, but don't have the money to take a course or the time to sit at a desk and study, the "Learn in Your Car" software might be just the right choice for you.
How is this software conducive to the on-the-go lifestyle? First, the contents of the set are very streamlined. The complete "Learn in Your Car" set, making up three levels, consists of nine CDs in their own stylish black carrying case and three slim booklets (levels one through three) that contain the transcripts of the discs in Spanish and English.
Not only are the CDs and booklets easy to carry with you, but you can listen to them anywhere you have a CD player. And because the discs have both Spanish and English, you don't ever need to look at the booklets: instead, the booklets are just more of a supplement that help you learn how to write the language in addition to speaking it.
Finally, if you have a portable mp3 player, like an iPod, you can simply transfer the files from the CDs to your player and then this software can travel with you everywhere. It is the fact of its easy portability, combined with its great format for learning, that makes the "Learn in Your Car" software one of my personal favorites.
The Approach (5 out of 5)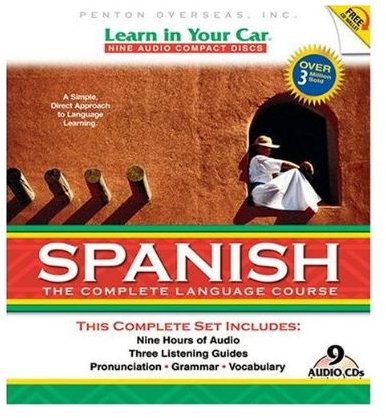 The "Learn in Your Car" software takes a natural approach to teaching a language. What is the best way to learn a new language? Not by reading words off a page, but by hearing the language! Listening is the way babies learn language, and it is the way that adults learn a new language most fluently and with the best pronunciation.
The reason this software helps you learn Spanish so well is that it is based mostly on listening. Each level has three CDs in it. Each compact disc contains somewhere between ten and seventeen lessons. Each lesson builds upon what you learned in the last lesson.
For example, the first lesson, on disk 1 in level 1, is called "Basics." In this lesson, you will learn personal pronouns (I, you, he, she, we, they) in the following way: a word will be introduced in English, then clearly stated twice in Spanish. The repetition helps you really hear the proper pronunciation; and of course, you can repeat the lesson as many times as you wish until you are comfortable with the words taught in it. If you want reinforcement of what you are hearing, simply refer to the little booklet for Level 1, which lists the vocabulary both in English and in Spanish.
"Learn in Your Car" teaches with an emphasis on communication.
What You Will Learn (5 out of 5)
The "Learn in Your Car Spanish Complete Language Course" covers a lot of linguistic ground in its nine CDs. If you complete all one hundred and seven lessons, you will have learned words, phrases and sentences to use in numerous social situations. You will also have covered most basic vocabulary and grammar concepts in the Spanish language.
Some of the lessons focus on particular grammatical concepts. For example, there are lessons on: nouns, adjectives and adverbs, verbs, prepositions, stress pronouns, possessive adjectives, future tense, past tenses, present tense, past participles, and much more.
Other lessons focus on domains of vocabulary, such as: directions, numbers, time of day, transportation nouns, days of the week, months of the year, shops, money, hotel, restaurant and many more.
Still other lessons hone in on particular social situations and the culturally appropriate phrases for these: getting around, at the doctor's office, at the dinner table, and so on.
There is a tremendous amount of Spanish language data presented through the "Learn in Your Car" software, and if you listen and repeat each lesson enough to feel comfortable with understanding and speaking the contents, you will emerge from the experience with an excellent grasp of Spanish and an ability to function well in many normal everyday situations.
Navigating the Software (5 out of 5)
Navigating the "Learn in Your Car Spanish" software is as simple as can be.
To see what contents are on a CD, refer to the back of the accompanying booklet. Each booklet has a Table of Contents listed on the back, telling you exactly what you will learn in the tracks of the three accompanying CDs. For example, the Level 1 booklet lists what concepts you'll learn on the tracks of discs 1, 2 and 3. There are three CDs and one booklet for each level.
Once you've popped the disc into your player, it is easy to go back and forward between lessons, because each lesson is saved as a separate track. The Spanish and English soundtracks are on separate channels. So if you decide that you do not want to hear any English, and only hear Spanish, simply adjust the balance control of your CD player so you hear only Spanish.
Where to Get it (5 out of 5)
The Learn in Your Car Spanish Complete Language Course is available at Amazon for around $30.00. The price is very reasonable considering how perfect the software is for a language learner who is always on the go.
Conclusion (5 out of 5)
Though this curriculum does not contain any visual helps (video, pictures, etc.), it is nearly perfect in the function it is designed to meet: helping the traveler to learn Spanish while driving in the car. So although it would be ideal to learn a language through visual input and real interaction with people in a classroom or real life setting, for the person who is always on the go, this software is a great choice.