Study Guide to Avi Wortis' "Nothing But The Truth"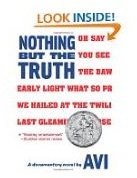 Splendid Story Summary
Avi Wortis' Nothing But the Truth is an epistolary style book told through letters, memos, and transcripts of dialogue. It serves to highlight and document the story of a New Hampshire High School freshman, who is suspended for humming the Star Spangle Banner by Francis Scott Key, and the ensuing results.
Phillip Malloy is an enthusiastic athlete who lives in Harrison, New Hampshire, and goes to Harrison High School. He dreams of being a track star but after he receives a "D" in English on his report card, he is not allowed to try out for his school's track team. Because of his stubborn grudge against his teacher, Miss Narwin, he decides to sing along with the national anthem because he knows that it will annoy her. As a result of this, he is sent to the associate principal's office and denies an opportunity to apologize in order to overturn a horrid two-day suspension.
The story runs on the local paper, the Manchester Record, and is used by a candidate and family friend who is running for the local school board, Ted Griffin. The issue suddenly blows up and is then picked up by the national media and soon becomes a nationwide political issue.
Because of a highly biased version of the incident in the newspaper, many come to the conclusion that Phillip has been kicked out of school for unrelenting patriotism. The school is flooded with telegrams supporting Phillip for his valor. As the issue becomes a more prevalent topic, many local officials such as the school superintendant blame the teacher for failing to adhere to the school's rules. By popular demand, Miss Narwin is suspended for the rest of the school year and then she resigns from teaching and relocates to Florida to live with her sister.
Many of the students are outraged at Phillip because of this ill-advised event that he orchestrated against Miss Narwin. It is also later revealed that she was a very popular teacher and extremely well liked by her students. At the end of the novel, Phillip decides to transfer to another school without a track team. When he is asked to lead in the singing of the national anthem on the first day at his new school, it is revealed that Phillip does not actually know the words.
Avi's Use of Epistolary Style
Avi's novel makes phenomenal use of an epistolary style novel. By using documents, memos and letters, he is able to create a greater sense of realism in the story. Additionally, the bias is taken away from the story as there is no omniscient and all knowing narrator. This allows the theme to be better presented as the reader is given more freedom to form his own opinion.
Theme: The Subjectiveness of Truth
The central message of the novel serves to signify that truth is purely subjective. While individual statements may paint one part of the story, when put together, they may paint a picture that is entirely different. Avi's use of distortion of the truth in the novel is highlighted through his various non-narrative elements. Avi also attempts to highlight people's willingness to put aside what is true fact in order to protect themselves and their own self interests. This is perhaps best illustrated by the school's superintendent, Dr. Seymour, who attempts to apply damage control on this nationwide issue. While the pieces that are used by the author throughout the book are all considered to be correct, the reader is able to distinguish alarming discrepancy between the various sources. Ultimately, Avi fails to create a villain in the novel; instead, he creates a scenario where a simple mix-up is blown out of significant proportions.