Facts about Djuna Barnes: A Writer's Biography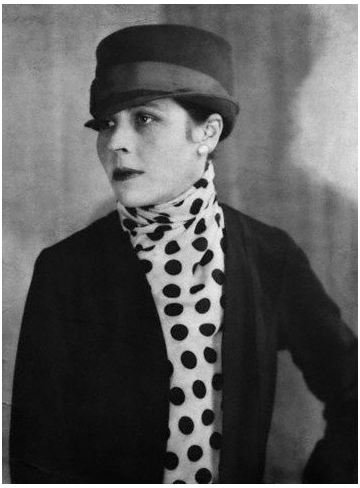 Djuna Barnes was once a writing talent of the Lost Generation era. The tag the Lost Generation came from a remark by Gertrude Stein to Ernest Hemingway when she said, "All of you young people who served in the war. You are a lost generation." Stein said this about a post-World War I group of writers who grew up under the cloud of war where trench warfare was the mainstay and millions died—as a consequence these writers were hard drinking and fast-living—and had established their literary promise as disillusioned, young expatriates in the 1920's New York and
Paris.
Despite being a female Modernist writer who had limited earnings with her books, she had the kind of stamina and world-wise brazen manner that can only be born from a rather scary, suffocating childhood. When she burst forth, she did so with wild abandon.
Beginnings
Djuna was born in Cornwall on the Hudson in New York in 1892 and lived on the slope of Storm King Mountain in a log cabin. The homestead was crowded, as she had four brothers all with unusual names: Thurn, Zendon, Saxon and Shangar. Her father was a polygamist, purported to be violent. She was often under the care of her grandmother and there may have been incest. Homeschooled, she began writing as a young person and had received paychecks from New York newspapers. Eventually her mother broke away from that household of two wives, taking her Djuna and her brothers south into Brooklyn, New York.
Djuna was a fine artist and spent some time at Pratt Institute School of Art. Examples of her illustrations pepper many of her journalistic endeavors. Feeling obligated to help provide for her smaller family, she became a prolific reporter, writing over 100 articles for the Brooklyn Daily Eagle, New York World Magazine and Vanity Fair. It seems she could be found in every New York publication save the Times. She is allegedly thought to have marched into the offices of the Brooklyn Daily Eagle and said, "I can draw and write and you'd be foolish not to hire me."
Never to let feelings go to waste, she immortalized her screwy upbringing into her first novel, Ryder, and used her father Wald as a hated, reckless failure with two wives and two sets of children living under one roof.
In the 1920s, she was an actress in Eugene O'Neill's Provincetown Players. The Players produced three of her plays in 1919, and later she was celebrated in various literary salons of New York. Barnes was a Bohemian character living an unconventional life while she experimented with her sexuality and had affairs with both men and women during the New York Years, the years of her education.
Early Stunt Work
One of her early works gained notoriety. She often used herself as a pawn in what she called "My Adventures Being Rescued," during which she put herself in peril at a firemen's training session, hanging several stories up in a long black dress.
For the New York World Magazine, she was subjected to being force-fed to illustrate the fate of hunger-striking suffragettes and the accompanying photo shows her stoically being held down by three men while a doctor snakes a tube up her nose.
She also became a regular on the set of the women's boxing beat. Her writing is full of misfits, freaks, socialists, hipsters, immigrants and even the homeless; characterizations she followed with interest. She soon moved into Greenwich Village, became part of a blooming literary scene and even interviewed many famous people including James Joyce for Vanity Fair in 1922.
Literary Modernism
If one can succinctly categorize the Modernist Period, 1910 to 1960, in which Ms. Barnes excelled, the literary works were a visceral reaction against the tight-chested Victorian period of repression for women and for men who said little out of the common lexicon.
The roots of Modernism that came up in the late nineteenth and early twentieth century were a self-conscious break from the traditional. Although one thing did help to draw attention to the early twentieth century writers was a rapid increase in literacy rates and a demand for literature to foster it. The Romantic period was passé for them, the war brought a decline of civilization writers had to deal with and an increasing industrial shift which no one was ready for (similar to technology today).
Barnes was at various times a poet, journalist, playwright, theatrical columnist and novelist who then liked to be called "The Barnes."
Paris
Barnes moved to Paris where she joined a group of amazing literary, artistic and independent women on the Left Bank, including notables such as Gertrude Stein, Alice B. Toklas, Janet Flanner, Sylvia Beach and Adrienne Monnier. She had some of her standout years there. Barnes had a fiery romantic relationship with silverpoint artist Thelma Wood, but that disintegrated because of Wood's faithlessness in their bond. Some critics claim that Barnes's novel, Nightwood, is largely autobiographical and that the novel's characters are based on Barnes and her Paris circle of friends.
She returned to New York to live in a Greenwich Village apartment, while drying out from alcoholism, and took up a patronage with Peggy Guggenheim's circle in the 1930s.
Recluse
She withdrew from life.
In a rare interview in 1971, she explained, "Years ago I used to see people, I had to, I was a newspaperman, among other things. And I used to be rather the life of the party. I was rather gay and silly and bright and all that sort of stuff and wasted a lot of time. I used to be invited by people who said, 'Get Djuna for dinner, she's amusing.' So I stopped it."
Ms. Barnes died at her home in Greenwich Village in 1982 at 90 years old.
References