The Life of Ted Hughes: British Poet & Writer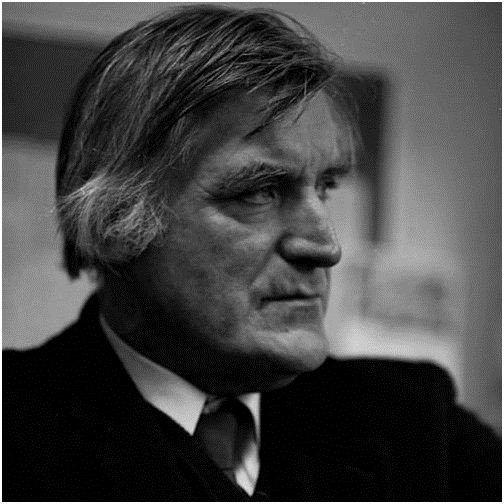 Rural Upbringing
Hughes grew up around the farms and moors of Yorkshire. He spent much of his time hunting, fishing and swimming. His older brother taught him about wildlife, as did his close friend John Wholly, whose father was a game-keeper. His older sister introduced him to poetry. His teachers saw his creative abilities and encouraged him to write. At age sixteen, some of his work was being published in his school magazine. He also won an exhibition at Pembroke College of Cambridge. His only dream was to be a poet.
Hughes spent two years in the Royal Air Force as a ground wireless mechanic at an isolated station in east Yorkshire. Militarily speaking, it was an uneventful time. He passed the days reading large amounts of Shakespeare and Yeats.
Cambridge
In 1951, he began studying at Pembroke, but was not enthusiastic about rigidly formal traditional literature, which he considered to be a "terrible, suffocating, maternal octopus". His attendance was sporadic and he wrote little. After two years in the English department, he transferred to Archaeology and Anthropology.
After college, he wrote and held odd jobs including one at a zoo, giving him opportunity to continue his fascination with animals. Together with some friends, Hughes compiled Saint Botolph's Review. Four of his poems were in the issue. While at Cambridge on scholarship, American poet Sylvia Plath read his poems in the Review and had to meet him. She found him at the St. Botolph's launch party. The two hit it off and were married four months later.
Life with Plath
Hughes and Plath inspired each other and were very productive together. She typed up his manuscript "Hawk in the Rain" and submitted it to a contest for The Poetry Center judged by Marianne Moore, WH Auden and Stephen Spender. Hughes won the contest and was published by Harper, making him admired throughout America and Europe. The collection includes "The Thought-Fox", an example of Hughes using an animal metaphorically to describe human imagination.
The Thought-Fox
I imagine this midnight moment's forest:
Something else is alive
Beside the clock's loneliness
And this blank page where my fingers move.
Through the window I see no star:
Something more near
Though deeper within darkness
Is entering the loneliness:
Cold, delicately as the dark snow
A fox's nose touches twig, leaf;
Two eyes serve a movement,
that now And again now, and now, and now
Sets neat prints into the snow
Between trees, and warily a lame
Shadow lags by stump and in hollow
Of a body that is bold to come
Across clearings, an eye,
A widening deepening greenness,
Brilliantly, concentratedly,
Coming about its own business
Till, with a sudden sharp hot stink of fox
It enters the dark hole of the head.
The window is starless still; the clock ticks,
The page is printed.
They moved to America for a short while, where Plath taught at her alma mater Smith College and Hughes taught at the University of Massachusetts. They returned to England where they wrote essays, articles, reviews and programs for the BBC. Their first child, Frieda Rebecca, was born in 1960. They moved from their flat into a larger home in 1961. Nicholas Farrar was born in 1962.
The couple rented their flat to poet David Wevill and his wife Assia. She and Ted had an instant attraction. In his last poetic work, Birthday Letters published in 1998, he writes about meeting Assia:
from Dreamers
I refused to interpret. I saw
The dreamer in her
Had fallen in love with me and she did not know it.
That moment the dreamer in me
Fell in love with her, and I knew it.
Hughes and Assia began having an affair. He and Plath split up in the fall of 1962. To end a life filled with depression and suicide attempts, Plath asphyxiated herself in her gas oven on February 11, 1963.
Hughes became executor of Plath's literary estate and began editing her work for publication. He destroyed the last volume of her personal journal, to protect their children he said. Fans of Plath blamed Hughes for her misery and death. They were outraged that he was handling her writing. His readings were often interrupted by shouts of "murderer" and his last name was chiseled from her tombstone by vandals.
In 1969, Assia killed herself and their four year old daughter Alexandria in a similar way as Plath, by asphyxiation with a gas stove.
In 1970 Hughes married Carol Orchard. They remained together for the rest of his life.
His Work
Hughes was known for being in touch with the movements of animals and how they described human nature. With Leonard Baskin as his illustrator, he published Crow in 1970. In this work, the crow is a mythical bird linking god and man.
His style moves contrary to the traditional iambic form. His lines are assertive, built from trochees and spondees, with a rhythm that pushes for action. He often uses a loose stanzaic form but will also freely vary line lengths. He uses numerous enjambments and caesurae, unafraid to make the syntax of the poem run contrary to the endings of the lines.
In addition to poetry, Hughes translated classic plays, including free-verse translations of Ovid's Metamorphoses. He also wrote for the stage and radio. He wrote prose and poetry for children. Meant to comfort his children after Plath's death, his The Iron Man became a rock opera by Pete Townsend and the animated movie The Iron Giant.
The year of his death, he broke his silence on his life with Sylvia Plath, publishing Birthday Letters.
References
A portrait of Ted hughes by Rob Lycett. Date: March 19th, 1993. Location: Calder high School, Mytholmroyd, West Yorkshire. By Original uploaded by Breakingthings (Transfered by Maurilbert) (Original uploaded on en.wikipedia) [CC-BY-SA-2.5-2.0-1.0 (http://creativecommons.org/licenses/by-sa/2.5-2.0-1.0)], via Wikimedia Commons