Review of The Book Thief by Markus Zusak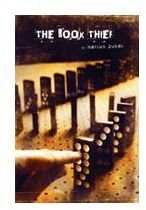 The Book Thief is a young adult story by author Markus Zusak. It is set during the second World War in the heart of Germany. Narrated by Death himself, it follows the story of a young girl growing up amidst all the ups and downs of life, set against the horrific backdrop of the war and the Nazis. Zusak takes a very big story (that of Nazi Germany) and nestles the much smaller story of a teenager growing up in that world within it. Throughout the narrative, there are some definite things said about Nazi Germany, but the story is really about the heroine, Liesel Meminger, and the people in her life during that time. Since it is primarily her story, having it be narrated by someone else makes a stylistic impression.
The Nature of Humanity
Using Death as a narrator is interesting in a story set in a period where so many people were dying. It provides someone able to be close enough to the characters as he comes and goes collecting all of the ended lives that the war creates. Yet, he is still detached enough to focus on Liesel's story without becoming lost in the atrocities of war. In fact, Death tells the reader up front that he makes every effort to not seek any sort of connection with humans because distraction makes his job easier to do. Instead, he focuses on the colors the world presents, such as the shades of the horizon or the white of snow. The author uses these colors to great symbolic effect at various intervals through the story as well.
One of the story's primary themes is that humanity can be so very ugly and yet still so very beautiful, and it takes an otherworldly figure such as Death to be able to see this. Keeping the focus primarily on Liesel is important, because despite the time period, this is not a novel about the war or about the Nazis. They are important, often central components; however, this is a novel about a teenage girl growing up and finding her place in the world, no matter what might be going on around her. Sometimes, in spite of everything, Liesel has reasons to be happy and to enjoy herself in the moment. It is difficult to find redeemable characteristics in Nazi Germany, and Zusak makes a powerful statement by allowing his characters to have happiness in an awful time. He does it with such a deft hand that their happiness never feels frivolous, and instead is always very real and very human.
Growing Up In Nazi Germany: Plot Synopsis
The story begins with Liesel on a train headng to meet her foster parents. Her mother is unable to care for her and is bringing her to a foster family that will be better able to provide for her. We first meet Death when a passenger on the train passes away, Death first meets Liesel here as well. Death allows himself to feel a connection to Liesel despite his attempts not to. Liesel begins her career as a book thief on the train when she steals her first book, The Gravedigger's Handbook, when it dropped from the pocket of a young apprentice at the burial.
Upon arrival in Germany, Liesel meets her foster parents Hans Hubermann, her kind and quiet father, and Rosa, her strict and abrasive, yet still very loving mother. While many of the neighborhood children make brief appearances in her life, only her neighbor Rudy, who becomes her best friend, makes any real imprint on her. He is the friend at her side for nearly all of her adventures (and in some cases, misadventures). It is in this friendship and in her home life where she manages to find most of her happiness throughout the novel. This is especially true in the earlier parts of the story, before the small sphere of her world has been interrupted by the war growing around her.
That changes when, in keeping with a promise her foster father made following the events of the first World War, a Jewish man named Max Vandenburg enters her home and her life. Her friendship with Max is hesitant at first, but blooms quickly as she begins to understand how unjust the Nazi party is. As the war continues and tensions in Germany heighten, Liesel's family is forced to deal with the extra tension provided by Max's presence in their basement. Even before meeting Max, Liesel had begun to dislike the Nazis, and her anger with them fuels her second book theft from a public book burning. Through her relationship with Max, her anger towards Hitler and the Nazis blooms in full. As she becomes a stronger reader, Liesel receives more books. She even steals a few more. As she reads each, her understanding of the sacred nature of words and the power they have over us grows. Using Liesel's books and her relationship with Max, the author does an excellent job of paralleling this message with the rise of Hitler, a man who used words to gain his power.
The Power of Words
Liesel grows to love books at first, but that love turns to hatred as she watches Max unfairly suffer. Finally, she learns to respect words as what they are, an effective tool that can be wielded for good or ill. As she gains this understanding and her understanding of the world around her, we are reminded of the times she is living in. She has moments of great happiness, but they are always dampened by the understanding of where she is. The war, ultimately, is interwoven through the lives of every character in the story. Some characters suffer more than others at the hands of that war, but all are affected, and all are uplifted and brought down by the power of words.
Even before the release of the The Book Thief, Markus Zusak was already a very successful author. He published four previous books for young adults, and won a Printz Honor award for excellence in young adult literature for I Am The Messenger in 2006. (He was awarded the Printz Honor again in 2007 for The Book Thief.) He is a writer with a lot of talent, and he shows off what he can do here, by dealing with sensitive subject matter gracefully. This is an extremely powerful, tightly-crafted work. I finished reading it on a crowded subway train, and as I made my way through its final pages, I found myself crying, in spite of the crowd of people I knew could see me. I cried because the story being told and the words being used, to borrow a phrase from the story's narrator, are so very ugly and so very beautiful. This is a story of war and death, but more importantly it is a story of life in spite of death and of the nature of words to lend themselves to all of that and so much more. It is an extremely profound young adult novel that effortlessly transcends that genre. This is not a story that readers of any age should miss.
References
Zusak, Markus. The Book Thief. Knopf Books, New York. 2006.
Markus Zusak's author information page: https://www.randomhouse.com/features/markuszusak/author.html
Cover Image from Random House's information page, https://www.randomhouse.com/features/markuszusak/excerpt_bookthief.html