Book Review of Health, Nutrition, and P.E: Grades 3 - 4. Is it Right for Your Homeschool Program?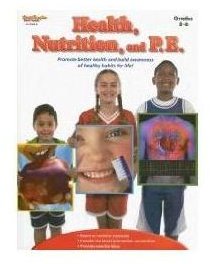 The Health, Nutrition and P.E. Series is available in different grade levels. The series that I purchased and am reviewing is for Grades 3-4. My daughter began 4th grade this year, so it was perfect for our use. It is also inexpensive. You can often find used copies on Amazon for as little as $4.00.
Most schools teach P.E. four days per week and health for one day. Other schools teach P.E. for three out of four semesters and one semester of health. You can choose, as a homeschooling parent, which of these schedules you would like to follow.
Book Review
This book is divided into three units:
Unit 1: Health
This unit has the most lessons in it, at forty-six. The course also provides bulletin boards, which my daughter loved to create. She hung up a picture of a bank and money bags around it. The bulletin board was titled, "Health Wealth" and she wrote all of her ideas about staying healthy on the money bags. All of the activities in the health section are interactive and fun for both my daughter and I. It is also written at a level that my daughter can comprehend and discusses real-life issues that she needs to know about.
Unit 2: Nutrition
This section has eleven lessons and again, provides a bulletin board exercise. This bulletin board features the food guide pyramid and is called, "Snack Attack". Kids cut pictures of healthy snacks from magazines and place them onto the bulletin board. The whole section is dedicated to teaching kids how to make healthy food choices. This is especially important in today's age, when fast food dining is so common.
Unit 3: P.E.
This section has ten lessons in it and a bulletin board called, "Fitness is the Goal". This bulletin board features a soccer goal, player, and as many soccer balls as desired. Your child writes his or her fitness goals onto the soccer balls. The part I like best about this section is that it teaches children the importance of warming up and cooling down, and how to keep track of their pulse rate when working out. There are several exercises that are modeled for the student to do right at home. My favorite part of this section is the weekly exercise chart. It helps my daughter keep track of her amount of exercise.
I love this book and think it is an excellent source for homeschooling parents. I give it two thumbs up!