To Go Their Separate Ways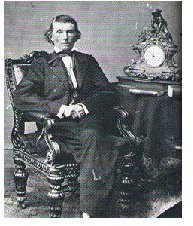 Behind Southern secession was the fervent desire to have a "country of their own" and go their separate ways, out from under the authority of the federal government. In the early days of the Confederacy, Vice President Alexander H. Stephens articulated the Southern cause in his "Cornerstone Speech" in Savannah, Georgia. There is no complete verbatim transcript of the speech, but a Savannah Republican newspaper article got most of it down.
This lesson plan will encourage students to read and critically evaluate a primary source that articulates the Southern cause for secession and its hopes for the future, as articulated by the Confederacy's second highest official.
Learning Objectives
After completing this lesson plan, students should be able to:
♦ Understand the views of Alexander H. Stephens, a prominent Confederate leader, on:
The "superior" nature of the Confederate constitution
The "justification" of the institution of slavery
The "reasonable" solution to states' leaving the federal union
♦ Discuss, be tested on, and debate Stephens' milestone speech given in the early days of the Confederacy
Resource Material
Utilize these resources for your students:
Class Activities
Print the Cornerstone Speech and assign it as reading homework. Handout could include the short take-home or in-class quiz posted at the end of this session.
or:
Break the students into groups. Each group will read a section of the speech aloud during the class. Ask the students to interpret or state the main points of their section.
Further Steps
The reading and discussion can be the basis of two additional activities:
1. A single-page essay assignment focusing on one or more of the following:
Summarize Stephens' views on slavery and its role in the new Confederacy. Did Stephens believe that slavery was justified? Why or why not? Use quotes to support your answer.
Summarize Stephens' opinions on how successful the new Confederacy would be. Was he optimistic or pessimistic? Why? Use quotes to support your answer.
2. A class debate on whether Stephens' views (in the context of the time) were justified or unjustified. (Note: Emphasize to the class that understanding someone's views — especially in the case of slavery — does not necessarily condone them.
Sample take-home or in-class quiz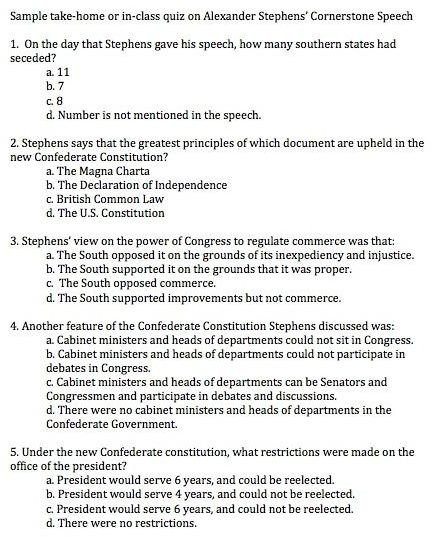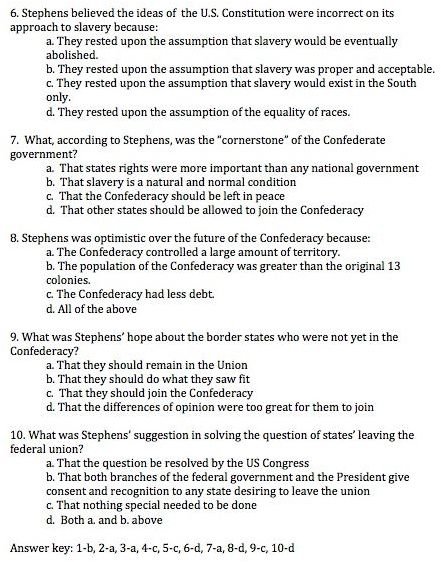 This post is part of the series: US Civil War Lesson Plans
Use these lesson plans to enrich your students' understanding of America's greatest conflict. Students will research, collaborate and critically examine the political, cultural, social and moral issues underlying the US Civil War.