What Are the Functions of a Teachers' Union?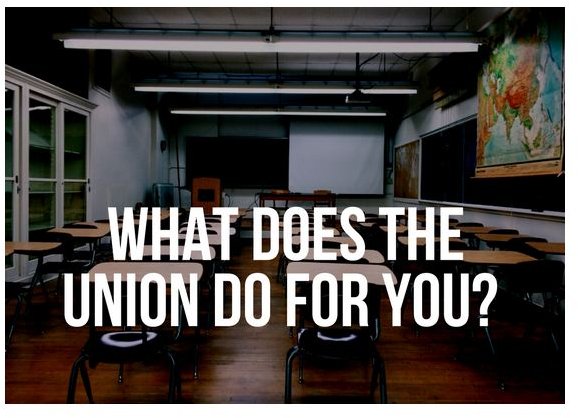 How Do Teachers' Unions Work?
Unions are member-driven. This means that the union consists of members who also elect members to fill all leadership positions. Unions consistently check back in with their members to set what the union should be working towards through surveys, meetings or site visits. In addition, many union memberships give you membership to multiple unions. The local union is often affiliated with a state union and a national union to have your back at every level of government.
In some states, all education professionals must be a part of the union or must pay a fee to get out. Other states are considered "right to work," meaning there is no legal requirement to be a part of the union, however, nonmembers receive many of the same benefits as members due to the arduous work of the union. These right to work states also have more lax labor protections and the union has less collective bargaining power, leaving you vulnerable in the work place.
What Do the Local, State and National Unions Do?
Regardless of which kind of state you live in, the teachers' union is fighting locally, statewide and federally for better workplace protections for teachers, more funding and better education policies.
At a local level, teachers' unions collectively bargain contracts, follow policies reviewed and created by school boards, advocate for teachers and often lead professional development or other trainings. Politically, unions often endorse pro-education local candidates.
If you have a state union, it follows and engages with state policies, the state board of education and troubleshooting problems on the local level. States also create State unions also endorse pro-education candidates for office, but at a state level.
Your national union is in D.C. following and engaging in the complicated policies and politics of the United States Department of Education, Congress, White House and Supreme Court. They also create trainings and resources that they share with all their state and local affiliates.
What Benefits Would I Receive as a Union Member?
If you are in a right to work state, there are some benefits that make paying dues worth it. Often, your dues will come right out of your paycheck, so you do not have to think about it.
First, if you are in a state where unions are required to work for all teachers, they are only paid for their labor by some of whom reap the benefits. These policies were created to weaken labor unions. By joining your union, you help strengthen it so you get better contracts and have more power at the bargaining table.
Without being a union member, you have very little voice in the direction of your contract and education policy. Dues-paying members are often surveyed and empowered to share their stories and perspectives prior bargaining contracts, during legislative battles and when setting political agendas. If you are not a member, you do not have a voice in any of these decisions, many of which have huge implications on your job. For example, the union often recommends ideas for legislators to turn into bills, such as a teacher evaluation formula that is fairer to teachers or a cap on class size. Unless you are a part of the union, you have no say in what they propose.
Many, if not all unions come with collective perks. From discounted insurance and cruise tickets to education conferences and trips paid for by the union, being a member has rewards. The more engaged you are, the more fun the perks get, such as attending an all-expenses paid national union meeting. Also, unions often come with automatic liability and accidental death insurance that provides even more protection.
Unions are given duties by the state for which they choose members. Unions are chosen to pick local and state board members, assign members to counsels and other leadership roles within the state. They generally choose members for these positions. The union is also responsible for other statewide decisions, but this varies a lot state by state.
Unions often have training and professional development that is open only to members. If you are not a member, you cannot attend. If your professional development requirements expect you to pay out of pocket for courses, the union often helps relieve that burden.
Union Strength
Unions grow stronger with the more members they represent. The higher number helps with collective bargaining, but it also means that there are more people speaking out and working together to create a better educational environment where you are. If you are frustrated with the direction of the union, start talking to other members and speaking out at the union. Unions are malleable to the needs of its members.
Full Disclosure
For full disclosure, the author of this article works for a state education union. This article is a collection of what I have learned about unions, what they are doing for teachers and why participation matters.