How to Afford to Live in the School District You Teach For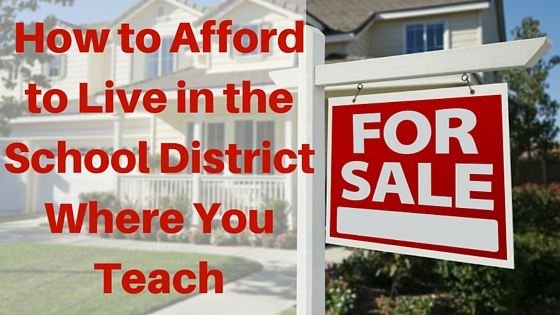 In Cupertino, Calif., the president of the teachers' union cited housing as one of the biggest reasons educators are leaving the district. The problem extends far beyond the heart of Silicon Valley, too.
Many of the world's top universities are being hit, with some pouring millions of dollars into temporary accommodations and affordable housing for new professors.
Those who aren't so lucky are moving farther and farther away from the cities they teach in, piling long commutes on top of days already filled with teaching, curricula, and grading. Add that rental prices are also on the rise, and it's easy to see a crisis brewing.
The Housing Education Crisis
In 2012-13, the average public schoolteacher in America earned $56,000, which was $13,000 less than the average nurse and $27,000 less than the average programmer. And those salaries don't scale well compared with those in private education, which links salaries to available state and city taxes rather than the state of the local market.
This problem isn't hampering only young teachers carrying heavy student loan debts. With homeownership out of the question, even tenured educators struggle to cope with rising rents.
Globally, prestigious institutions such as Oxford University also feeling the heat. The university's ranking continues to slip as it struggles to attract professors put off by the state of the housing market.
Finding Affordable Housing
With governments either unwilling or unable to act to avert this housing crisis, teachers must take matters into their own hands to ensure they can continue doing their jobs without sacrificing quality of life. Here are three measures to take:
1. Harness the power of dual incomes. Educators with significant others should use the couple's dual income to leverage a better position in the housing market. It might mean choosing a larger, more expensive apartment or result in leasing a smaller unit that's a lot closer to work.
The average American spends $2,600 a year on his daily commute, so the strategy is worth a shot; the monthly rent may be higher, but saving on gas and other variables could make it an overall cheaper alternative. And that's before allowing for potentially unnecessary car maintenance and insurance and an inner-city apartment with essential amenities.
2. Build stronger credit. Ascending the housing ladder might seem like a steep climb today, but there's no use dwelling on that problem. Despite lenders' hesitance to hand out loans like its 2008, now is the time to capitalize on low interest rates and start building a strong credit rating.
One easy way to do this is to get a new credit card, use it frequently, and pay off the balance at the end of the month. But there are plenty of other options as well. Educators who strengthen their credit today position themselves well to acquire mortgages in the future.
3. Save, save, save. A heftier down payment means lower monthly repayments, so open a savings account and put money away. It's not easy to implement this strategy, so try sticking to a budget.
A spreadsheet is the easiest way to track income and expenditures. Laying out a detailed record of everything from student loan repayments to grocery costs helps you get a feel for a budget and keep spending under control. Work out how much money can be spared, and put it away in a high-interest savings account. Remember: Homeownership holds its fair share of financial surprises, so the down payment should be coupled with a healthy emergency fund.
With this difficult situation unlikely to change any time soon, educators need to do everything possible to position themselves for a financially secure future. That could mean downsizing today to upsize tomorrow or even skipping a few happy hour gatherings. In the end, though, it'll be worth it to secure the right property in the right neighborhood.
About the Author: David Adams is the founder of HomeSuite, an online marketplace for temporary furnished housing that uses technology, data, and customer service to provide the best possible experience for tenants and landlords.
References