Help for Homeless Teens and Kids: How Youth On Their Own Makes a Difference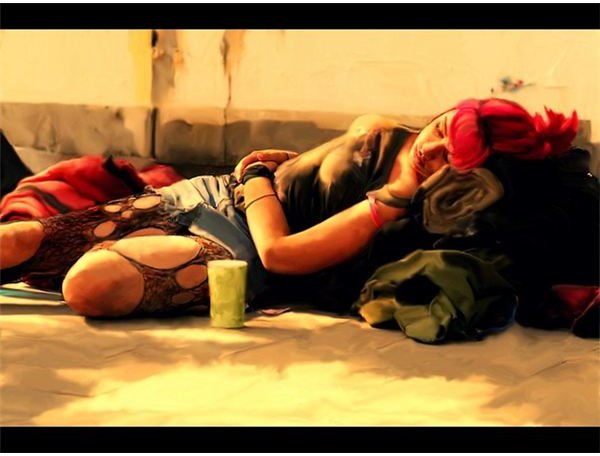 School is hard. Kids are tough. Showing up for class in new clothes with breakfast in your belly and lunch in your box is a challenging social experience on its own. Without these essential items or a safe place to sleep, succeeding in school is nearly impossible.
Youth On Their Own understands that children of families shattered by substance abuse, poverty and crime are very likely to live the lives of their parents if someone does not offer a hand up to them.
Who Are YOTO Students?
Students must be designated as homeless according to the 1987 McKinney-Vento Act in order to qualify for assistance from Youth On Their Own. This law seeks to supply basic services to children "who lack a fixed, regular and adequate nighttime residence." Not all states have successfully implemented this law. It is up to nonprofit groups such as YOTO to bridge the gap between a well-meaning national law and aiding individual kids.
Through no fault of their own, YOTO students find themselves without a proper guardian. They move from couch to couch and friend to friend. They attempt to hide their situation from their peers. They try to succeed inside school when everything outside is in shambles.
YOTO students must be in grades 6 through12 and no more than 21 years old. They attend public, private and charter schools in the Tucson area. They sign a contract stating they will stay off drugs, stay out of gangs and maintain passing grades. The program provides students with career guidance, financial assistance, homework help and college counseling.
The process starts when a student contacts a YOTO Liaison at school or contacting YOTO through its website.
How Did YOTO Begin?
In 1986, Amphitheater High School counselor Ann Young knew of at least 10 couch-surfing youths at her school without permanent homes. She sought ways to help the students but found no agency existed in Tucson.
"Their teachers and I were quite concerned about these young people and the danger of their having to drop out of school before they could graduate," she says. "They were struggling."
Mrs. Young looked to her church, local foundations and interested citizens. YOTO was born. Beginning with 10 students at Amphitheater High, it came to support 300 students by 1994. Currently it serves nearly 1000.
YOTO now has a long-term plan and broad community support to continue its mission into the future. It has earned numerous awards. Most recently, the Del E. Webb Foundation named it an Outstanding Organization.
How Does YOTO Help?
YOTO delivers various financial, medical, emotional and academic services:
The Student Living Expense Program gives a monthly stipend of $140 for basic expenses.
Emergency needs funds help students with rent, utilities and more.
Bus passes to help students get around.
A basic needs "mini-mall" distributes donated goods such as food, clothing, school supplies and hygiene items.
Housing referral connects youth to affordable, safe residences.
Personal counseling and success coaching to deal with the past and future.
Medical, dental and vision care.
A refurbished computer so YOTO kids can be modern students.
A home in central Tucson where students can access services and drop in for homework help.
YOTO Student Stories
Alisa is one of the "in crowd." She also has a pair of drunks for parents. Her dad left, but he wasn't good for much other than drinking and vomiting, she says. Her mom went out and found a new drinking buddy.
One day Alisa came home to find her stuff in plastic bags outside their empty apartment. The superintendent told her some guy came and picked up her mom. That was it. Alisa was alone and homeless.
She was also Junior Class President, National Honor Society President and Homecoming Queen. She was good at pretending everything was okay at home. She had been doing it for years. Sobbing, she called a friend, whose mother came and picked her up. They gave her a place to stay. They suggested she talk to the school counselor.
The counselor connected her to YOTO. "Please help me," she said. She didn't want to end up like her parents. YOTO gave her support, counseling and guidance. They helped her become Valedictorian and earn a scholarship to Penn State. When she graduates, she vows to spend her life helping others.
Robert grew up in a world of violence and substance abuse. He had been beaten and kicked out of his home. He slept in the park at night. "Often just staying safe and having my next meal was my main concern." He still came to school on time, whether waking up on a park bench or a friend's couch.
He dreams to have a career in architecture and build environmentally friendly commercial structures. YOTO is helping him with finances, housing and his self-esteem. His Cs and Ds have become As and Bs. He is on track to attend Pima Community College to earn his AA then transfer to the University of Arizona for his Bachelor's in Architecture.
He knows he is a winner because of what he has overcome. He knows he can achieve anything.
How Can You Help?
YOTO accepts donations of money and goods through its website, at its Tucson location and through various local fundraisers. Outside the Tucson area, some organizations, but never enough, are helping with the same mission. American Youth Policy Forum and the National Coalition for the Homeless can connect you to a group in your area.
Alternatively, build your own. With love, dedication and help, Ann Young did. Remember, these students are at a crossroads through no fault of their own. Will they be the next generation of burnouts and convicts, or will they rocket out of the pit, fueled by caring people, to become something great?
References